It's a small circle of diehards who cluster around Gunar Harmon in the center of Seabury Academy's soccer field to soak in his words of advice.
Soft-spoken by nature, Harmon doesn't need to raise his voice to make sure everyone hears his instructions. On a good day, only 14 or 15 players are gathered, and at first glance, it appears there actually are more soccer balls scattered around than players available to use them.
This day is not a particularly good day. Only 12 players are on hand, and not even all of them are available for practice. In yet another ode to the cliche about misery loving company, injury and illness have piled onto the already dicey numbers situation.
Yet Harmon and his charges soldier on, determined to find some higher calling from the annual hardships that seem to plague the Seahawks on the soccer pitch.
"Sport is a tool to teach life lessons," says Harmon, while watching his band of stalwarts engage in a shooting drill. "Life is not always fair. You take your lot and you go with it.
"Sports are a great lesson to teach a little bit about life," he says again, trying to hammer the point home. "How do you persevere?"
One year at a time if you're Seabury Academy. The small college preparatory school has offered boys soccer since opening its doors in 1997, first as a grades 7-12 program before joining the more stringent Kansas State High School Activities Assn. before the 2003-04 school year.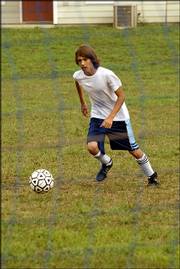 The school witnessed an ongoing carousel of coaches that finally stopped spinning when Harmon, who learned the game while growing up in Germany and coached in the U.S. Olympic Development Program, took over the Seabury girls program in the spring of 2005 and added the boys duties last fall.
However, while that problem suddenly had a resolution, another did not - having enough players to field a complete roster and thereby having enough able bodies to play a full schedule.
It's an ongoing problem exacerbated by Seabury's mission of honing well-rounded students who engage in a variety of extra-curricular activities to better themselves and their academic futures. With approximately 75 students enrolled in grades 10-12, that often means kids who are juggling band, student plays, the school newspaper and varsity athletics all at the same time.
On one hand, Harmon is lucky this fall. He has the luxury of eight seniors on his current roster. However, he doesn't need anything more than his other hand to count the number of underclassmen who decided to join them for the 2006 season.
"We like what we have," says Harmon, briefly opting for positive spin before succumbing to the harsh reality. "It puts us in a bit of a pickle."
A dill one, at that. After opening the season Aug. 25 with a 9-2 loss to Eudora - a Class 4A school with an enrollment that's more than quadruple that at Seabury - the decision was made by athletic director Brian Clyne and Harmon to pull the Seahawks out of last week's Kansas City (Mo.) Barstow Tournament.
While the move cost Seabury three games - a substantial loss considering Clyne already has trouble each fall filling out a full slate of 20 games - the hope is that the extra week of practice will allow the Seahawks to get healthy and attack the remainder of the schedule with a full complement of players, no matter how limited that number may already be.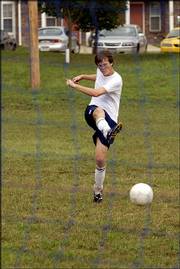 "I have eight seniors on this team. They've gotten the lesson," said Clyne, tying the decision to pull out of the tournament into Harmon's declaration about making the best of a trying situation. "I didn't need to make them a human sacrifice to Pembroke (Hill)."
It's a decision that sits surprisingly well with some of the players who, thanks to four additional cancellations by other numbers-strapped teams, are now guaranteed just 10 games this season, picking up with this Friday's contest against Heritage Christian.
"I see it as a benefit. I was a little bit worried from (the Eudora game)," said senior defender Justin Esau, who became involved in the Seahawks soccer program as a seventh-grader and never left. "We know what we need to work on from that game. We know what the challenges are, what our strengths and weaknesses are."
Still, aren't there moments when all the heartache, the canceled games, the overwhelming opponents make even the most committed player say enough is enough and decide to throw in the towel?
"It's about us leading the younger kids we have," said fellow senior Scotty King, who also lines up on defense. "What draws me back is I know they are counting on us."
In the end, however, Seabury may ultimately find itself counting on the seniors too much. Looking ahead to next fall, Clyne knows he's staring down a reality where, with the Class of 2007 no longer roaming the pitch, the program might not have enough willing newcomers to take its place.
"I'm not going to abandon the program. On the other hand, I want to be ready," Clyne said. "The bottom line is we have to offer a boys team sport in the fall. I have to offer something.
"It wouldn't surprise me if we have soccer again. It also wouldn't surprise me if we had an eight-man football team. ... I just think we have to look within our Seabury community and say, 'OK, guys, what do you want to support?'"
Copyright 2017 The Lawrence Journal-World. All rights reserved. This material may not be published, broadcast, rewritten or redistributed. We strive to uphold our values for every story published.