Kansas City, Mo. — Jorge Posada started a 10-run, eighth-inning rally with a two-run homer, and Robinson Cano capped it with a three-run drive to lead the New York Yankees past the Kansas City Royals, 12-5, Monday night.
New York trailed 5-1 before getting seven hits and three walks off four pitchers in its biggest inning since scoring 13 in the eighth against Tampa Bay on June 21 last year.
Bobby Abreu had four RBIs for the Yankees, who were swept three games by the Royals last season when they made their previous trip to Kansas City.
Royals starter Luke Hudson struck out a career-high 10, the most by a Kansas City pitcher in five years, and turned a 5-1 lead over to Jimmy Gobble starting the eighth.
Posada cut the gap in half with his homer, and former-Royal Johnny Damon greeted Andrew Sisco with a tying, two-run single.
Abreu lined a two-run double off the wall in straightaway center with one out for 7-5 lead, delighting a crowd of 27,123 that sounded pro-Yankees.
Posada had an RBI single off Ambiorix Burgos, and Cano homered for an 11-5 lead.
Abreu added a sacrifice fly in the ninth.
It was New York's biggest road inning since the Yankees scored 10 at Seattle on May 8, 2003.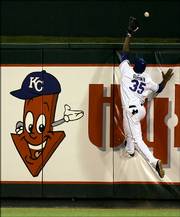 T.J. Beam (2-0) got one out for the win as New York (82-54) moved a season-high 28 games over .500 and maintained a nine-game lead in the AL East over second-place Boston.
Scott Dohmann (1-2), who loaded the bases with a walk to pinch-hitter Bernie Williams, was the loser.
Before the game, the Yankees said Mariano Rivera will miss the three-game series because of a muscle strain near his right elbow.
The closer hasn't pitched since Thursday, and he wasn't needed in this one.
Until the eighth, the Yankees' lone run off Hudson came on Abreu's RBI single that tied it 1-1 in the fifth.
Derek Jeter stretched his hitting streak to 15 games with two singles on the night he passed Phil Rizzuto for the most games played by Yankees shortstop with 1,648. He was 3-for-6 and raised his average to .344, two points behind Minnesota's Joe Mauer, the AL batting leader.
Mark Teahen drove in Kansas City's first run with an infield out in the first inning and then singled home David DeJesus with the tiebreaking run in the sixth.
DeJesus came sliding across the plate as catcher Posada lunged for the tag, and replays showed he might have missed the plate. Emil Brown followed with an RBI single.
Kansas City added two in the seventh off Ron Villone on RBI doubles by Mark Grudzielanek and Mike Sweeney.
Notes: Hudson's 10 strikeouts were the most by a Royals pitcher since Blake Stein struck out 11 in 2001 at Minnesota. ... Posada's home run was his 192th, tying Tino Martinez for 12th on the Yankee charts. ... The Royals were expected to purchase the contract of RHP Jose Diaz from Triple-A Omaha on Tuesday, and he would be their team-record 29th pitcher used this season. ... Jason Giambi was hit twice by pitches, and has been hit 14 times this season.
Copyright 2018 The Associated Press. All rights reserved. This material may not be published, broadcast, rewritten or redistributed. We strive to uphold our values for every story published.