Neil LaBute is no stranger to psychological horrors.
Nearly a decade since the writer-director released "In the Company of Men," LaBute has continued to earn a reputation as a master of placing amoral individuals in schemes of revenge and betrayal.
Now LaBute, a 1989 Kansas University master's graduate in theater and film, has turned his attention to actual cinematic horror. Labor Day weekend moviegoers were able to catch the release of his version of "The Wicker Man," a big-budget remake of the 1973 British cult flick that has rightly earned a reputation for featuring one of the most horrific endings in movie history.
The picture casts Nicolas Cage as a California motorcycle cop who is recruited to help find the missing daughter of an old flame, leading him to an island run by a neo-pagan society.
"There are only so many ways you can write," the 43-year-old LaBute says. "I think I've honed it into a place people seem to find distinct. But you never want to get into a rut, either. I'll probably keep trying to mix it up as much as I can."
Q: What was your biggest apprehension about remaking "The Wicker Man"?
A: It was going into that inevitable arena where people know the material. There are certain people who know what you're doing and compare it and contrast it - as opposed to just taking it on its own merits. Beyond all the difficulties of making a film anyway, you've got the additional business of dealing with expectations of people based on something else.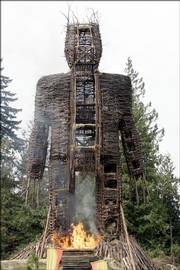 Q: Was there pressure from the studio to change the ending?
A: There was discussion about it. It was very important to Nic Cage and myself that his character (suffer the same fate as in the original film). To give the exact same ending - like to end on the same shot - would not have broadened the thing from our point of view. So we liked the idea of giving a little coda to put in people's laps, like, "Here, what do you really know about the person sitting across from you?"
Q: You made a number of changes to the material while keeping the plot basically the same. What was your biggest improvement to the script?
A: It's always subjective, but the improvements for my taste were (Cage's character's) connections to the island. In the original piece, Sgt. Howie, the Edward Woodward character, had no connection to the island other than this anonymous letter that shows up. He goes and treats everybody with about the same contempt or disdain, from the lowest shopkeeper to the head of the island. He feels like he's justified as a Christian and a policeman. It's kind of a flat line in terms of his character. I think Cage having some of the backstory that we created ... gave him something more to play.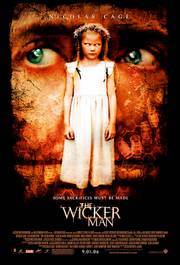 Q: When a filmmaker has established enough of a style, a term is developed around them such as "Kubrickian" or "Mamet-esque." Do you think you've earned the distinction of being "LaButy"?
A: I don't know. I think I have found a relatively distinct voice in what I do. Thematically, you can look at a film like this or even a film like "Nurse Betty" and see that the things that have concerned me are in there. So I continue to examine those things even when they're not strictly jumping right out of my own head. I don't know if labels are good or bad. So if you're using it in a good way, I'm glad I earned it.
Q: So do you prefer Labuty or Labutian?
A: (laughs) I think LaButy is a little scary. So I'll have to go with LaButian.
Q: You returned to Lawrence in 2003 for Alums Come Home IV, for the first time since you graduated. What was that experience like?
A: It was a good experience. It was one of those things where you felt, "Yeah, you can go home again." The changes in the place seemed relatively insignificant and were overshadowed by the fun of actually seeing everybody again. It's kind of a quintessential college town. So it was nice to be back in town, at Liberty Hall and the school. It hit on all the right notes for me. ... It's like going on vacation: You get to experience all the high points without any of the "now I've got to go turn on the gas."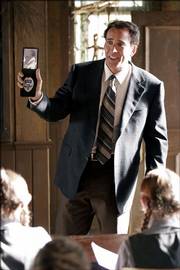 Q: Do you have much contact with the university or with former KU students in the entertainment industry?
A: I do from time to time. People either contact me, or I put feelers out. I'm happy to help out. I'm on the film advisory board at KU. My hand is out there, and I'm interested in being part of it. But at the same time you're managing your own life and career, so you have to balance those things. But I definitely feel you should always send the elevator back down.
Q: Between the theater, film and your collection of short stories ("Seconds of Pleasure"), is there any other new outlet on the horizon for your writing talents?
A: There are things along the way that I keep flirting with. I've talked about getting involved in a musical on Broadway. That's a world I don't know all that well, so I'm taking my time making sure that's something I want to do. You have to surround yourself with people who really know their job. But it's like doing a film for the first time: You hadn't done it until you've done it.
Q: If you could remake any film, what would it be?
A: It would probably be something like "La Dolce Vita." Not because I think I could make it better, because I would invariably (expletive) it up. It's just so I could be there while it was being made. It was a great time in Rome to have been there. I think that's a time and place that would have been amazing to be a part of. I'm just being selfish.
Copyright 2018 The Lawrence Journal-World. All rights reserved. This material may not be published, broadcast, rewritten or redistributed. We strive to uphold our values for every story published.