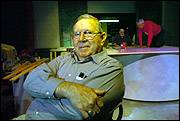 Nominations are being accepted for the 11th annual Phoenix Awards, presented by the Lawrence Arts Commission to recognize outstanding achievement in the arts by members of the Lawrence community.
Anybody may nominate a person for an award in one of eight categories. These are educator in the arts, literary arts, media arts, musical arts, performing arts, visual arts, volunteer in the arts and exceptional artistic achievement. Supporting materials such as reviews of work, newspaper or magazine stories, exhibit catalogs or performance programs are encouraged.
Nomination forms and lists of the past winners are available at City Hall, the Lawrence Public Library and the Lawrence Arts Center. Nomination forms and winners' lists also may be downloaded at www.lawrenceartscommission.org.
The nominations, addressed to the Lawrence Arts Commission, must be received by Sept. 27 at the city manager's office, 6 E. Sixth St.
This year's Phoenix Awards Ceremony will be at 2 p.m. Nov. 5 at the Lawrence Arts Center. Awards created by photographer Edward C. Robison III will be presented at the ceremony.
For more information, contact Evie Rapport, 749-0873, or mrapport@sunflower.com; or Michael Tubbs, 832-7813, or mtubbs@ci.lawrence.ks.us.
Copyright 2018 The Lawrence Journal-World. All rights reserved. This material may not be published, broadcast, rewritten or redistributed. We strive to uphold our values for every story published.