Kansas City, Mo. — The Chicago White Sox are probably happy they don't have to face the Kansas City Royals again this season.
The Royals have the worst record in the majors at 51-87, but have been giving the White Sox fits lately, winning five of the last eight meetings. That came after the White Sox won eight of the first 11 games between the teams this season.
Ryan Shealy and Angel Berroa each homered and drove in three runs, and Mark Redman pitched seven strong innings as the Royals defeated the White Sox, 7-3, on Sunday.
"It is huge for our team," Shealy said. "That's two series in a row we've won against teams that are right there in contention. Those are the kind of games we hope to play next year. I think this is a good building block for us."
Paul Konerko and Jim Thome homered for the White Sox, who maintained their half-game lead over Minnesota in the AL wild card standings. The Twins also lost Sunday, falling 10-1 at New York. The Royals won two of three at Minnesota before taking two of three from the White Sox.
"Their record doesn't indicate how they're playing right now," Konerko said of the Royals. "They are definitely a much-improved team in the second half. They're beating good teams, and they are no pushovers. People say Kansas City and Tampa Bay like they are easy wins. They're playing well right now."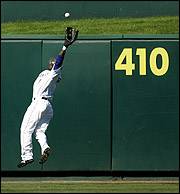 Redman, who gave up eight runs and 10 hits in 32â3 innings in a loss at Chicago on Aug. 14, held the White Sox to one run and four hits. He struck out six, walked four and tied a season high with 123 pitches.
Redman (9-8), who shut out Minnesota in his previous start, pitched out of a bases-loaded jam in the third by striking out Thome after walking Jermaine Dye.
"That was more of an intentional unintentional walk to Jermaine," Redman said. "Jermaine is leading their offense in home runs, RBIs and average. I'm not going to let a righty beat me in that situation. Left-on-left, you've got to go with it and make your pitches. You've got to pick your poison. This is a real tough lineup and any mistake can cause a lot of damage."
Konerko gave the White Sox a 1-0 lead in the second, giving him 30 homers for the third straight season and fourth time in his career.
Berroa tied it by sending an 0-1 pitch from Freddy Garcia into the White Sox's bullpen over the left-field fence in the third, snapping an 0-for-13 skid.
In the fourth, Shane Costa grounded into a fielder's choice with one out, and Shealy homered to left to give the Royals a 3-1 lead. Shealy, hitting .395 with eight RBIs in his last 11 games, has 22 RBIs in 33 games since being acquired in a four-player trade with Colorado on July 31.
"I always knew I could play here," Shealy said. "I wanted to be given the opportunity, and I have here. I've been in the lineup everyday. There's been some days and bad days, but as a whole I'm getting better and I'm learning. I was looking for something up in the zone and he (Garcia) hung a slider. I decided to stay back on one."
Costa hit a one-out double in the sixth and scored on Shealy's single to center.
"Things are looking a lot brighter than they were before Ryan got here," Royals manager Buddy Bell said. "Defensively and offensively, he has a knack of being in the right place and understanding what he needs to do."
Thome homered in the eighth after Dye had doubled off reliever Joel Peralta to cut the Royals' lead to 4-3.
Garcia (13-9), 3-0 in his previous four starts, gave up five runs on eight hits in seven-plus innings.
"Freddy threw the ball real well," Guillen said. "He was effective, but Redman threw the ball better. We can't afford to lose that many series. Hopefully this is the last one. The guys we faced this weekend were pretty good. They kept our offense real quiet."
The Royals added three runs in the eighth on Berroa's two-run single and Paul Bako's infield single.
Notes: Dye, who struck out in all four of his at-bats Saturday, struck out in the first inning Sunday. He ended the skid by walking in the third. ... Royals LF David DeJesus singled in the fifth and has hit safely in 12 of 13 games. ... Chicago 3B Joe Crede went 0-for-4, snapping his 10-game hitting streak.
Copyright 2018 The Associated Press. All rights reserved. This material may not be published, broadcast, rewritten or redistributed. We strive to uphold our values for every story published.