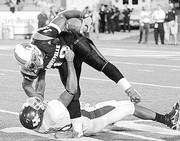 LOUISVILLE — Michael Bush passed up a shot at the NFL to try for a national championship at Louisville.
Instead, his season ended after three touchdowns and a little more than one half of football.
The senior running back broke his right leg early in the third quarter of the 13th-ranked Cardinals' 59-28 victory over Kentucky on Sunday night.
He will be out for the season. Bush already had run for 124 yards and three touchdowns when he took a pitch on Louisville's second play of the second half. His right leg was pinned awkwardly underneath him while being tackled by Kentucky's Wesley Woodyard.
Bush lay on the ground for several minutes before being placed on a stretcher. He waved to the capacity crowd at Papa John's Stadium and was then taken to a local hospital.
Copyright 2018 The Associated Press. All rights reserved. This material may not be published, broadcast, rewritten or redistributed. We strive to uphold our values for every story published.