Perry — From the front drive of the Grainery Saloon on Apple Valley Lane in Ozawkie, the rumbling of big-bore motorcycles grows faint, distant.
The saloon looks like it might be a rough place - maybe all saloons on dirt roads out in the middle of nowhere look this way - but the ABATE of Kansas motorcycle show already is under way, and the saloon is miles from it.
The state's annual ABATE rally - which stands for American Bikers Aimed Toward Education - kicks off Labor Day weekend at Perry Lake and draws thousands of motorcyclists from all over the Midwest and beyond. Loyal attendees say it's the best rally in the state, and the Sunday show is typically the main event.
Now, lost in Jefferson County, maybe someone at the saloon knows where it is.
Inside, long tables are lined with men and women in bandannas, catching a midafternoon snack and drink. Most glance up from plates of tacos, stop in midchew.
The bartender prepares to open a beer.
"Uh, hi there. Does anyone know where the motorcycle rally might be?"
Outside, a dozen or so big bikes line the dusty parking lot.
Directions come quickly. But, back out on the road, it only takes a couple of turns to find the show - because suddenly, every road is filled with packs of motorcycles traveling at high speeds down county roads, all headed to the show.
Photo Gallery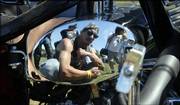 ABATE of Kansas rally
Suddenly, at Perry Lake's Paradise Point, it all comes into focus: acres of motorcycles, tents, trailers, tables, lawn chairs and all the rest.
Sure, ABATE has a message - it's a motorcycle rights organization, advocates for those who prefer two wheels to four - but here, it's Labor Day weekend, and thousands are on hand to kick back and have a blast.
"We just come over here to get away, relax," Aaron Walker said, just past the rally entranceway at one of the first campsites.
Walker and his wife drove a big Harley-Davidson cruiser here from Cameron, Mo., and now they're kicked back, drinking beer shielded by foam Koozies.
The weekend is filled with rumbling motorcycles and blaring bands, of party beads and bottles of liquor. Walker said he's stoked for Canned Heat, one of the feature bands Sunday night.
"You're talking about an old band there," he said as an obvious compliment.
Across the way, Denise Edgecomb dribbles the last bit of margarita mix into two full glasses of tequila and ice. Her buddies rib her a little for her antics the previous night, but the Lee's Summit, Mo., resident doesn't seem to mind.
"Even though I was bad last night, I got to be bad today," she said, topping off her glass.
Edgecomb said she was scared to come to the rally at first. She expected fights, hard-core motorcycle chicks causing a ruckus, she said.
"I didn't want to come," she said.
But her husband, Don, brought her anyway, and now they both agree their first rally experience has been a good one.
For all of the booming motorcycles and tattooed frames, Don said this scene was mellow, friendly - a great way to spend a long weekend.
Don said he wants to dispose of the big, bad biker persona. People have some notion that motorcycle rallies are a good place to get in a fight and that's it.
But the bottom line is, he said, the whole weekend has been nothing but a good time. He said he hasn't seen an argument, let alone a fight, the whole time he's been here.
Leaning back on his buddy's motorcycle, Don looks out at his group of friends.
"It's just good people getting along," he said.
Copyright 2018 The Lawrence Journal-World. All rights reserved. This material may not be published, broadcast, rewritten or redistributed. We strive to uphold our values for every story published.