Most Lawrence residents are sound asleep at 4 a.m., but when you love fishing as much as Al Dieball, time just doesn't matter.
Dieball was out on the water during others' graveyard shifts in the summer of 2001 at Milford Lake. Local fishermen have said the most effective time to catch fish is the wee hours of the night. There aren't as many motors from the boats on the water to scare the fish away.
Dieball suddenly felt something tug at his fishing rod. Talk about a wakeup call at 4 a.m. Adding to the fun, no one could help him maneuver the fish into the boat.
It was just Dieball - and the 50-pound blue catfish he caught.
Dieball said hauling the beast into the boat was no easy task.
"You have the rod in one hand and the net in the other hand, and I had to pull the fish up and net him one-handed," Dieball said. "I put him back, so he's still growing."
Dieball, 57, is well-known in the Lawrence community for his catfish snags. This is the fifth year he has served as president of the Kansas district of the U.S. Catfish Anglers Tournament Series.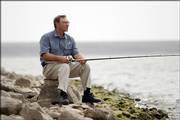 Dieball said he had fished in tournaments for 19 years. He has fished for leisure considerably longer than that.
"I learned to fish as soon as I learned to walk," Dieball said.
The Lawrence resident has been fishing the professional ranks, on the U.S. C.A.T.S., for five years. He recently placed fifth in the King Cat Tournament at Milford Lake earlier in the spring. Dieball said the King Cat could be paralleled to The Masters of catfishing. His fifth-place finish was one spot short of the money. He has lofty expectations for next year's King Cat.
"I want to win one of the major tournaments," Dieball said. "Next year, the King Cat will be in Kansas at Milford Lake. Some local angler should win that."
Rich Witt is Dieball's tournament partner. The Junction City resident said he had known Dieball for four years. They have been fishing partners for three years.
"He's a very outgoing person," Witt said. "He's not afraid to walk up to somebody and say who he is. He'll take anyone fishing who wants to go. He's a really good teacher."
Dieball hasn't always gone after catfish, though. He said he fished for walleye, crappie and bass the majority of his life, but picked up catfishing seven to eight years ago.
"There was no particular reason," Dieball said. "It just felt natural."
One reason might be the challenge Dieball associated with keeping catfish alive after catching them. The widely-held thought of the ugly appearance of the catfish doesn't bother Dieball. Sure, walleye, crappie and bass are prettier, but what's the challenge in keeping those alive?
"To keep five to 10 large fish alive for an eight-hour period during a tournament is a real challenge," Dieball said. "I'm always up for a challenge."
In catfishing tournaments, participants must keep their catfish alive for the duration of the tournament. Dieball said to do this, a live well capable of holding at least 50 gallons of water was required. The boat should also contain an efficient pumping system to pump air into the well.
Granted, catfish can still be nasty creatures. Dieball learned a valuable lesson three years ago at Milford Lake: never leave your fishing rod unattended.
Especially in catfish tournaments. The fish might take the rod out of the boat.
"You'd be baiting up another rod, and I laid it down, and another fish hit it, and it just went zingin' right out of the boat," Dieball said. "It probably was a big fish."
Dieball said he had simple advice for anyone interested in getting to the same level of fishing as him. After all, Dieball had to learn somehow. He said his father, Ray, along with his brother-in-law, Earl Evans, served as two of his primary fishing mentors.
"The best way to learn is from other people," Dieball said. "You've got to get out there and talk to people, do what they do, ask them how they do it, what kind of bait they're using; that is the best way to learn. I've talked to so many people - literally thousands - who I've learned from."
Copyright 2018 The Lawrence Journal-World. All rights reserved. This material may not be published, broadcast, rewritten or redistributed. We strive to uphold our values for every story published.