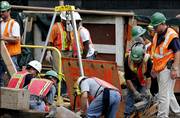 Washington — A hiring revival pulled the nation's unemployment rate down to 4.7 percent in August and flashed a Labor Day weekend message that the slowing economy isn't in danger of fizzling out.
The latest snapshot, released Friday by the Labor Department, was a bit brighter than expected and eased some fears that the economy - weighed down by a housing slump - might tip into recession.
"This provides some piece of mind," said Oscar Gonzalez, economist at John Hancock Financial Services.
Employers boosted payrolls by 128,000 in August, an improvement over the 121,000 jobs created in July. Schools, hospitals, financial firms, computer-design shops and construction companies were among those posting employment gains last month. That helped to blunt job cuts in manufacturing, retailing, trucking and elsewhere.
With hiring improving, the unemployment rate dropped down a notch from a five-month high of 4.8 percent in July. That decline put the current unemployment rate close to a five-year low of 4.6 percent reached in May and maintained in June.
Although economists pointed to the employment figures as evidence that the economic expansion, which began in late 2001, remains intact, there is an obvious weak spot.
Construction spending plunged in July by the largest margin in nearly five years, the Commerce Department reported, another sign of cooling in the once-sizzling housing market.
A report from the Institute for Supply Management, meanwhile, showed manufacturing activity in August expanding at a slower - but still decent - clip than in July. That was consistent with moderate growth seen in the overall economy.
Workers' average hourly earnings edged up to $16.79 in August, a tiny 0.1 percent increase from July.
Copyright 2018 The Associated Press. All rights reserved. This material may not be published, broadcast, rewritten or redistributed. We strive to uphold our values for every story published.