Sometimes, the names - and performances - are close enough to confuse even Kansas University football coach Mark Mangino, who spends almost every waking hour around his players.
Marcus Herford? Marcus Henry? Sure, Mangino knows the difference between them. But the guy has 100 players to keep track of. Cut him some slack if his mouth spits out the wrong name occasionally.
"Sometimes, when I say one's name," Mangino said, "I'm acting like I'm talking about both."
Herford and Henry are among a group of five wide receivers being shuttled in and out of first team, mixed and matched depending on formation, strengths, weaknesses, opponents, game situation, hunches and performance in the last 24 hours.
It's enough to make the brain throw its arms in the air and say, "What on earth are you putting me through?"
The fact is, there aren't three rising to the top of this heap. So all five will play, as well as Jonathan Lamb and Jeff Foster, possibly.
"We're going to need them all," wide receivers coach Tim Beck said, "so the idea is to get them all ready for when we're going to need them in there."
On the depth chart, the three starters are Brian Murph, Dominic Roux and Dexton Fields. But the truth is, it's possible that none of them will put up big numbers, because all five of them could put up respectable statistics over the course of the season.
They just have to erase the question mark and make their performance a reliable one.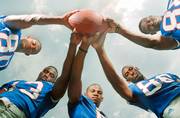 Making the switch
Marcus Herford - that's HERFORD - is ready to go. He spent last season in limbo, a wide receiver and a quarterback, shuttled into games under center for some trickery, lined up out wide only if the contest was out of hand.
Now he's ready to focus on one position - and contribute in more than one way.
"I've been working on route-running, blocking skills, little things like that," Herford said. "Now I'm able to focus on just that one position and doing all the things necessary to become a great receiver for this team."
Someone has to step up. While the offensive line is largely intact, while quarterback Kerry Meier has established the starting role and the confidence of the team, and while Jon Cornish returns intent on rushing for 1,000 yards, the receiver position is justifiably an unknown behind Murph, who had 33 catches for 368 yards receiving last year.
Herford, Roux, Fields and Henry combined for 31 catches for 325 yards in 2005 - both numbers less than Murph alone, and Murph was the third-best receiver statistically last year.
Truth is, when Mark Simmons and Charles Gordon - two reliable possession receivers - were no longer around, the position became unproven.
The pressure was on.
"Due to the fact that we have a freshman quarterback, as well," Herford said. "We had to come together as a corps and just play hard every down to make him better."
Herford might have the most athletic potential. He's 6-foot-3, 210 pounds and has good enough speed to be a difference-maker. It just needs to click, and Beck said it's about to.
"I think he's got a better understanding of leverage and coverage and setting guys up and kind of where to be and route depths and those kinds of things," Beck said. "It's less thinking involved, and he can just go out and play. That's one of the things that hindered him a little bit. He's improved in that area a lot."
More memories
No one can play the momentum card like Dexton Fields. After 10 games without a catch, Fields was in the game during KU's most crucial moment of the 2005 season. Down 21-14 to Iowa State, Fields caught a 15-yard touchdown pass from Brian Luke with 1:05 left in regulation. Kansas won the game in overtime, securing an invitation to the Fort Worth Bowl.
"It's helped a lot as far as confidence," Fields said. "During the season, I wasn't getting a lot of playing time besides special teams. It was real confidence boost."
Mangino considers Fields one of KU's best route-runners, and while he may not have the pure speed that Murph or Roux has, he could be one of the most intelligent receivers on the roster.
"He's really getting a good feel for what he sees in front of him," Mangino said. "How to find the open area. He understands the various coverages that he's seeing and how people are playing him."
Fields and Henry came in the 2004 recruiting class together, and while Henry skipped a red shirt and since has caught 25 career passes, Fields used his to soak in college football. With Simmons, Gordon and Murph on the roster, he wasn't called upon often in 2005, but coming up big against the Cyclones delivered a huge message to every receiver: Be ready; your chance could come, and it could be a big one.
"I felt a little more comfortable after that," Fields said. "I've been doing pretty good since then as far as practicing."
Swan song
And then there are Murph and Roux, the speedsters, the seniors and two of the most experienced receivers on the roster.
Murph works in the slot and will double as KU's punt-return specialist. His best game in 2005 was his last - an 85-yard punt return and a 48-yard touchdown reception in the Fort Worth Bowl.
It was Murph's first year of Division I-A football, after two seasons at Butler County Community College. And this will be his last, surrounded by expectations of being the best returning receiver.
"I'm just ready to get it all started right," Murph said. "It's different because whatever you do, it's done. You have no more years to come back and do it, so you got to do everything right."
Roux, meanwhile, is projected as a first-teamer out wide away from the formation. He started three games and caught just six passes in 2005, but he has one thing you can't teach.
Actually, both the seniors do.
"They have the ability to blow right by you," Mangino said. "They have that kind of speed."
Overall, it's a lot of question marks, but also a blessing that all five come out of a different mold. That's why mixing and matching is encouraged with this fleet - there simply are a lot of possible combinations to test out.
So instead of keeping track of who's where out wide and when (that might be impossible, really), put the program down and watch them work.
All of them.
"These guys have worked extremely hard waiting for their opportunity to get out there and play," Beck said. "Right now, they're excited."
Copyright 2018 The Lawrence Journal-World. All rights reserved. This material may not be published, broadcast, rewritten or redistributed. We strive to uphold our values for every story published.