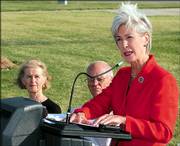 Matfield Green — In a major boost to preservation of the pristine tallgrass prairie in the Flint Hills, Gov. Kathleen Sebelius and The Nature Conservancy on Friday announced the donation of a conservation easement encompassing 10,000 acres.
The donation from Bill and Maggie Haw is part of an ongoing effort to put 70,000 acres of the prairie into conservation easements within three years.
The donation Friday brings conservation easements to date in the Flint Hills to 15,000 acres, said Alan Pollom, state director of The Nature Conservancy. Four other unnamed landowners have also contributed. Another donation of 1,760 acres is expected in two or three months, he said.
The group has concentrated its efforts to preserving views along the Kansas Turnpike from south Emporia to Cassoday, Pollom said.
"This compares with any treasure anywhere in the world," Sebelius told conservationists gathered at the Matfield Green Service Area for the announcement. "This is a unique treasure and we have an obligation to protect it."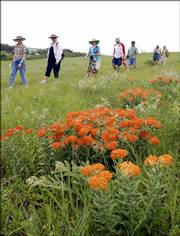 A conservation easement preserves the land for perpetuity - forever barring any mining, subdivision, structures, roads or other development, Bill Haw said.
"Contributing this easement is the most important thing we have ever done," he said.
It protects the unique ecosystem of the tallgrass prairie, its ranching heritage and its unbroken views, he said.
"This is too sacred a place ever to lose," he said.
In addition to easement donations, the group also has raised about $1.75 million in private funding to obtain additional acreage, Pollom said. That money will give them the matching funds needed to raise four times that amount through other sources such as the Natural Resource Conservation Service's farm and ranchland protection fund, he said.
While the idea of conservation easements are not new nationwide, it has been only in the last five years that they have been done much in Kansas, Pollom said. Other conservation easements in the state are around Kansas City along the Blue River and around the perimeters of Fort Riley.
Copyright 2018 The Associated Press. All rights reserved. This material may not be published, broadcast, rewritten or redistributed. We strive to uphold our values for every story published.