Mexico City — An angry group of leftist lawmakers, accusing ruling conservatives of stealing the July presidential elections, briefly took control of the Mexican Congress on Friday night and prevented President Vicente Fox from delivering his final "state of the nation" speech.
Chamber president Jorge Zermeno, a member of Fox's National Action Party, quickly declared a recess after the opposition legislators rushed the podium about 7 p.m. CDT. But they ignored his plea that they return to their seats.
"Vote by vote, booth by booth," they yelled, using the oft-repeated slogan for a nationwide recount. Their candidate, Andres Manuel Lopez Obrador, narrowly lost the July 2 elections in official returns but won't concede to conservative Felipe Calderon, Fox's former energy minister.
Fox did make it to the heavily fortified building, despite fears that protesters would block his motorcade and clash with federal police. As he walked into the lobby, Fox loyalists, trying to counter the protesters, shouted "Vicente! Vicente!"
But the president never got inside the chamber itself. Instead, he dropped of a written copy of the speech and made a brief statement from a hallway just outside.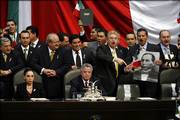 "Because of the attitude of a group of legislators that makes it impossible for me to read the message I have prepared for this occasion, I am leaving this assembly," Fox said. The session was adjourned a few minutes later.
Fox shot back two hours later when he arrived at Los Pinos, the presidential residence. In his nationally televised address he said the move by legislators from Lopez Obrador's Party of Democratic Revolution, known as the PRD, was "contrary to democratic practices and the exercise of liberties."
"This attitude : does not represent an offense to me, but rather to the office of the presidency and above all to the Mexican people," Fox said. "In a democracy, all voices should be heard."
Fox took a clear swipe at Lopez Obrador, who has led a series of protests in downtown Mexico, even suggesting he might auto-declare himself president on Mexico's Independence Day, Sept. 16.
He said democracy should not be infringed "through intransigence and violence" and warned that ignoring established law and institutions could lead to anarchy.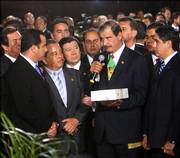 "Whoever attacks our laws and institutions also attacks our history and Mexico," Fox said. "No one can say that he supports the people when he attacks the people."
The theatrics played out both within and outside of the lower house of Congress, whose perimeter was fortified with thousands of federal and local police, concrete barriers, tall metal walls, water cannon trucks and tear gas dispensers. Streets were shut for miles around.
Calderon, a member of Fox's conservative PAN, kept a low profile Friday. Official figures show he defeated Lopez Obrador by about 240,000 votes, a margin of victory of only 0.58 percent. Mexico's electoral tribunal rejected Lopez Obrador's claims of fraud but hasn't yet certified Calderon's victory.
The court must declare a winner by Wednesday, and analysts are virtually unanimous in predicting it will be Calderon, who has promised to continue the same free-market, pro-U.S. policies Fox championed.
Copyright 2018 The Lawrence Journal-World. All rights reserved. This material may not be published, broadcast, rewritten or redistributed. We strive to uphold our values for every story published.