So get this: Northwestern State's starting quarterback, the son of a high school coach with football ingrained in nearly every relative in his family, has aspirations of being a professional golfer after college.
That's no typo. A professional golfer.
"I golf a whole bunch," NSU junior Ricky Joe Meeks said earlier this week. "I was out golfing yesterday."
Meeks is a borderline scratch golfer, one of five sports he excelled at during his high school days in Mount Vernon, Texas. He now is the leader of Northwestern State's offense, as the Demons prepare for today's 6 p.m. game with Kansas University at Memorial Stadium.
Meeks was a visible football and golf recruit coming out of Mount Vernon, where his dad, Dickey Meeks, coached the football team. He chose Southern Methodist over Louisiana Tech, Georgia Tech and others, but chose to leave the Division I-A school in Dallas after a red-shirt year.
Dickey Meeks is an established coach at the East Texas school with which KU coach Mark Mangino has a relationship. Jayhawk freshman John Marshall, an offensive lineman expected to red-shirt, played for Meeks last year at Mount Vernon.
"His dad is a highly respected guy and a good football man," Mangino said. "So I would think his son is a pretty heady player and can make plays, so we've got to be prepared for him."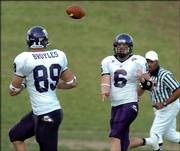 Mangino - as many coaches do - believes being the son of a coach gives a player a mental advantage on the field.
"I think it has helped me a pretty good bit," Ricky Joe Meeks said. "Ever since I was 4, I've been on the sideline. I've been in the meeting rooms with him. It helps you because you soak everything in."
Meeks considers himself a pocket passer who's not "going to win the game by myself." But Mangino is more complimentary of the junior than maybe Meeks is of himself.
"He's mobile enough to scramble, to run the ball if they need to," Mangino said. "I think he's a smart player. He's one of those guys that's not going to make a lot of mistakes. He's not going to hurt his team. He's going to give them a chance to make plays."
Meeks will lead an offense that features wide receiver Derrick Doyle, running back Greg Skidmore and a young but big offensive line. The Demons went 5-5 last year, beating I-A Louisiana-Monroe but never consistently putting victories together. One game was canceled because of Hurricane Rita.
NSU coach Scott Stoker said that me-first players may have caused a crisis last year. Meeks feels those problems are behind the Demons now.
"We've had good summer workouts and good camp and good practices this week," Meeks said. "We have to be that (unified). We're a young team. Any type of individuality on this team won't win games."
Meeks will lead the team into three Division I-A stadiums for games in which the Demons will be strong underdogs. After Kansas, NSU plays at Baylor. On Nov. 4, the Demons will travel to Mississippi.
"By no means are we going into any of these thinking we're going to win," Meeks said. "But we want to have the chance late in the game to have a chance to win the game."
Copyright 2017 The Lawrence Journal-World. All rights reserved. This material may not be published, broadcast, rewritten or redistributed. We strive to uphold our values for every story published.