It didn't take long for Ryan Murphy to get Free State High's football season going. All Murphy needed was the opening kickoff.
The senior quarterback/safety ran around the right side of the field until he saw an opening. Once he hit the hole and burst into the open field, no one was going to catch him.
Touchdown, Free State - 12 seconds into their 2006 debut at Abeles Field in Leavenworth.
"I just saw daylight, basically," Murphy said. "I just saw one person, made him miss and ran for the goal line."
The Firebirds ran all over the Pioneers on Friday night, crushing Leavenworth, 60-0, in its own backyard.
Murphy dominated the game on special teams, offense and defense, combining for five total touchdowns on the night. On offense, he ran for two touchdowns, including a 60-yard scamper down the left sideline. He passed for two additional scores. Oh, by the way - Murphy intercepted a pass from his free safety position as well.
"Coach has been preaching all week to be a violent hitting team," Murphy said of Free State coach Bob Lisher. "Offensively? I don't know."
There's not much more to say for the offensive explosion Free State created Friday. The Firebirds racked up 369 yards of total offense. The Pioneers gained only 158.
Photo Gallery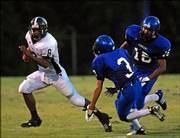 FSHS vs. Leavenworth football
"I saw holes everywhere," Murphy said. "I give all the credit to my line. They just kept opening up holes for me all day."
Everything went right for Free State, as evidenced in the third quarter. With the game already well out of hand at 53-0, the Firebird defense decided it wasn't done for the night quite yet.
Leavenworth quarterback Garrett McCowen carried around left tackle, but the ball slipped out of his hands. Naturally, it took two hops and landed right in the hands of Free State defensive back Jason Sneegas. Sneegas picked up the ball in stride and ran 20 yards for the final Free State touchdown.
The follow-up kick put the Firebirds squarely on the 60 mark.
"I just happened to be at the right place at the right time," Sneegas said. "The ball knocked out loose and happened to bounce right to me. I could just hear my coach yell in the back of my head, 'scoop and score.'"
Lisher gave the initial Free State offering a passing grade.
"That was our goal, to come out and play fundamental football, play hard and see what happens," Lisher said. "I was pleased with the majority of the football game. I thought overall, offensive line-wise, defensive-line wise, we did a good job up front."
Free State won't have much time to celebrate its opening-day victory. The Firebirds will have a short work week ahead of them, returning to action at 7 p.m. Thursday against Olathe East at Haskell Stadium.
Copyright 2018 The Lawrence Journal-World. All rights reserved. This material may not be published, broadcast, rewritten or redistributed. We strive to uphold our values for every story published.