David Clemmer learns quickly.
When asked if he'd change much about the pregame tradition as director of the Marching Jayhawks, he doesn't hesitate.
"If I change it up," he says, "I won't be here next year."
Clemmer apparently has done his homework on the Kansas University Marching Band tradition.
The 33-year-old has his first public test today as director of athletic bands, when the KU marching band takes the field for pregame and halftime performances during the 6 p.m. football game against Northwestern State.
He's hoping for a good impression as the band runs down the stairs in the north endzone seating and marches a pregame show that fans have come to know and love over the decades.
"That's the one thing about the job," he says. "Every weekend, every day, your reputation - your existence - is on the line. It's normal.
"But in my mind, I'll be crossing my fingers."
Crowd-pleasers
Clemmer comes to KU from Sam Houston State University in Huntsville, Texas.
In a way, he's returning to his roots. He received his master's degree at the University of Oklahoma, so he's familiar with Big 12 football and marching. And his wife is from Blue Springs, Mo., so he knows the area.
Audio Slideshow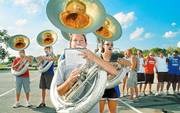 KU Marching Band
Clemmer replaces Jim Hudson, who left KU earlier this year after three years here to become marching director at Arizona State University.
Clemmer, who also will direct the men's basketball band, describes his style of halftime shows as "crowd-pleasing."
"It's about the entertainment value, with programming shows," he says. "You want to leave them whistling a tune or snapping their fingers. You want to make that connection with the audience."
Today's halftime show will feature Motown songs, including tunes by the Temptations and the Jackson Five. Upcoming shows including a jazz montage and a collection of Miami Sound Machine hits.
Students involved in the program agree halftime shows should be crowd-pleasers.
"The shows this year should be very enjoyable for the audiences, whether it's students or parents or alumni," says Meredith Allen, a senior who plays clarinet.
Boosting the band
This year's edition of the Marching Jayhawks is smaller than those in recent years.
The band has 165 members, down about 15 from last year. Clemmer attributes that to "fear of the unknown." But he promises to bolster numbers in the upcoming years, with a goal of doubling the band.
"At this point, there's a whole lot of work done by Jim Hudson," Clemmer says. "We're about midway through that process. It's not unreasonable to think in the next few years we could be at 300 or 320. That's entirely possible. That's not a pie-in-the-sky sort of thing."
He'd eventually like to get the marching band to the point where it's an audition-only group, to focus not only on size but on sound quality. But, he admits, he has to create a buzz around the band that relies, in part, on how successful the football team is, to guarantee members bowl trips.
Clemmer says he plans to develop relationships with area high school band directors as well as recruit on campus for new marching band members.
John Lynch, the KU director of bands, says the School of Fine Arts is working to secure money from donors that would allow the band to give stipends to members to cover membership costs. Currently, it costs each member around $200 a year to participate.
That should help with recruiting, Lynch says. But he's confident Clemmer's personality will help, too.
"He's so bright and talented, and he takes it all in stride," Lynch says. "The kids are taking to him really well."
Jean Menager, a freshman trumpet player from Auburn, says he thinks the on-field performances are the most important recruiting tool the band has.
"Basically, what we really have to do is portray a positive image and make people say, 'I want to be part of your group,'" he says. "If we give it our all in performances, and have a look that's amazing - that's pretty much the best way to recruit new members."
And being a younger director may help on a personal level, says Amy Knopps, a graduate teaching assistant with the band.
"He's really fun to work under," Knopps says. "He's really meticulous and very musical. He's young. He's energetic. He's just so personable - any student can go up to him and ask anything."
Marching tradition
This fall's band has been rehearsing since Aug. 11.
The toughest part of the season, Clemmer says, is learning the pregame, with the traditional "sunflower formation" and other maneuvers.
"For me, college marching band is first about school spirit and pageantry," Clemmer says. "Pregame is the moment where 100 years of pageantry come together."
Now that Clemmer is part of that Jayhawk pageantry and tradition, he recently decided to change his car's license plate holder from Oklahoma Sooners to Kansas Jayhawks.
"KU is a unique place, with the pregame pageantry," he says. "When you see the fans waving the wheat, it's unlike anything else. The traditions in place here will be here forever. It sets KU apart."
Copyright 2018 The Lawrence Journal-World. All rights reserved. This material may not be published, broadcast, rewritten or redistributed. We strive to uphold our values for every story published.