De Soto — Prior to De Soto High's football season opener against Ottawa, De Soto coach Brad Scott said his team would field a run-first offense.
So, the first two plays from scrimmage Friday, Scott had Jake Morse throw the ball. It was a recurring theme in the Wildcats' 60-19 victory.
"You never want someone you've never played to know what you do," Scott said about his deception. "Everybody plays those games at the beginning of the year. And I'm still a young coach, but I've learned a couple of lessons from a couple of people, and any advantage you can get in the first game, you're going to try to take.
"So we knew we had a couple of receivers and some skilled kids, and with our quarterback coming back it could be pretty good."
De Soto's main receiving threat was Erik Hill, who caught half of Morse's 12 completions; two of Morse's three incompletions were intended for Hill.
Hill took three of his receptions in for touchdowns - all of them from between 15 and 20 yards out.
"It's just great athletes," said Morse, explaining why all of De Soto's scores were over 15 yards. "And this offensive line, it just starts with them. To be able to create a hole for everybody to run through : they just did a great job."
A 28-yard touchdown strike to Shane Miller in the first quarter accounted for the biggest chunk of Morse's 153 passing yards.
Miller also had a hand in another big play, but not on offense.
After one of Ottawa's five three-and-out drives, Miller took the punt 59 yards to the end zone.
Photo Gallery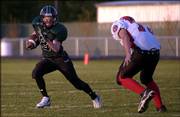 De Soto vs. Ottawa football
"It all happened with the blocking," said Miller, who scored the Wildcats' final touchdown on a 25-yard run. "Without that, it would have been nothing. I mean, I didn't really do anything. I made a couple of moves, but besides that it was all blocking."
Though Ottawa struggled mightily against the De Soto defense, it did show an occasional sign of life - mainly in the legs of Darius Johnson.
Johnson produced two of the Cyclones' three TDs, his longest an 83-yard scamper in the fourth quarter.
"Early on, Darius was running a little bit high," said Ottawa's Pat Boeh, whose squad had 12 first downs, four more than De Soto. "He's a tall kid anyhow, so we tried to get his shoulders lower - and we did. ... You could tell there at the end that he's a fast kid, and he showed some fire tonight."
Ben Harris, Ottawa's backup quarterback from a year ago, had a tough debut as the new starter.
Harris completed just three of his 11 passes - one of which went for a loss of six yards - but was able to connect with Derek Huddleton on a 10-yard touchdown pass right before halftime.
"Our field position was just horrible all night," said Boeh, whose squad lost four of six fumbles. "When you're down 13-0 as quick as we did, things just kind of snowball. : We just had a hard time coming back from those mistakes we made early - and De Soto took advantage of every error we made."
De Soto 60, Ottawa 19
Ottawa 6 7 0 6 - 19
De Soto 21 26 13 0 - 60
D - Tyler Farmer 28 run (JT Thompson kick)
D - Erik Hill 15 pass from Jake Morse (kick failed)
D - Shane Miller 28 pass from Morse (Hill from Morse)
O - Darius Johnson 2 run (kick failed)
D - Hill 17 pass from Morse (kick failed)
D - Miller 59 punt return (Tyler Farmer kick)
D - Miller 16 run (Farmer kick)
D - Morse 65 run (kick failed)
O - Derek Huddlestun 10 pass from Ben Harris (Harris kick)
D - Hill 18 pass from Morse (kick failed)
D - Miller 25 run (Farmer kick)
O - Johnson 83 run (kick failed)
Copyright 2018 The Lawrence Journal-World. All rights reserved. This material may not be published, broadcast, rewritten or redistributed. We strive to uphold our values for every story published.