The signs of change may be coming to busy commercial corridors like 23rd Street. Or actually, it may be the change of signs.
City staff members have begun the laborious process of reviewing the city's sign code, which is the highly technical document that spells out what types of signs businesses are allowed to have.
One of the larger issues they'll have to decide is whether the use of large, tall "pole signs" should continue to be allowed at existing businesses, even though they are no longer allowed as part of new developments.
"That may be part of the changes that we'll look at," City Manager David Corliss said of a possible requirement to have existing businesses replace within a specified time period their pole signs with shorter monument signs.
Corliss said it was still too early in the review to say with certainty that such a phasing out of pole signs would be included in a future recommendation to city commissioners. The City Commission ultimately will approve any changes to the sign code.
Business owners who have an existing pole sign will want to pay attention to the issue. Tammy Moody, an account executive with Luminous Neon Art & Sign, said it could cost businesses anywhere from $8,000 to $15,000 to replace a pole sign with a city-approved monument sign.
Plus, Moody said some businesses certainly would express concern about a loss of visibility. A pole sign is generally 25 feet to 30 feet tall, compared with a traditional 12-foot-tall monument sign.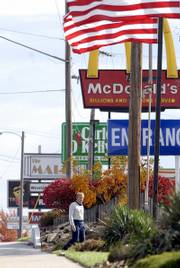 "I think it would be pretty hard on the City Commission if they just tried to ban them," Moody said.
City commissioners said they weren't necessarily pushing for the change. Commissioner Boog Highberger said the commission had expressed a desire for many city codes to be updated, but he said he hadn't received many complaints about pole signs over the years.
"I'm not convinced it is a problem," Highberger said. "I want to be sensitive to the needs of businesses."
John Miller, the city staff attorney working on the update, said poll signs weren't driving the review. Instead, he said he was looking to make sure the sign code works well with the city's new development code, which recently replaced the city's zoning code.
He also said the code needed to be reviewed to ensure that its meaning is clear and still complies with existing case law regarding signs.
Miller hopes to have the review completed by early 2007.
More communities are joining the trend of eliminating pole signs, Moody said. Aesthetic issues mainly are driving the conversion, with some people thinking the shorter signs create a cleaner look for a commercial area.
The city in the mid-1990s began disallowing pole signs as part of new commercial developments, but existing pole signs were allowed to stay.
The only way an existing pole sign is removed is if the business owner makes significant changes to the building or property that require the city to approve a new site plan. At that point, city planners require that the pole signs be replaced by monument signs.
Mike Goans, chairman of the city's Sign Code Board of Appeals, said he would like to see the city code changed to also require removal of a pole sign anytime a business changes ownership.
"I would rather see it happen that way instead of requiring everybody to make a change in a three- to five-year time period," Goans said.
Copyright 2018 The Lawrence Journal-World. All rights reserved. This material may not be published, broadcast, rewritten or redistributed. We strive to uphold our values for every story published.