Oaxaca, Mexico — Thousands of protesters driven from the city center by federal police after months of paralyzing demonstrations vowed to retake the main plaza on Monday, but strike-weary residents pleaded for a return to life as usual.
Oaxaca remained deeply divided between the protesters demanding Gov. Ulises Ruiz's resignation and those yearning for a return to the tranquil days when foreign tourists browsed shops and dined on the region's famous mole sauce.
"Fight, fight, fight! Don't stop fighting!" the protesters chanted before arriving at the central main plaza, the Zocalo, which served as their headquarters for months.
Facing off with columns of 3,500 police who blocked their access to the square, the demonstrators screamed "Murderers! Murderers!" as they lit fires and tossed Molotov cocktails and fireworks that fell short of police lines.
The protesters did not attempt to break through police lines and there were no direct clashes between the two sides. One officer was taken to the hospital after being hit by fireworks.
About 2,000 protesters regrouped in a plaza just a few blocks from the Zocalo, saying they would establish that as their main base until they could retake the main plaza.
Ignoring protesters who screamed "Sellout!" a group of about 20 residents and business owners waged earlier countermarches to thank federal police for clearing away the demonstrators, who had kept the city under siege since May, trashing the town, shutting down businesses and repelling national and international tourists who traditionally are drawn to the picturesque colonial city of 275,000.
"Let them stay," Edith Mendoza, a 40-year-old housewife, said of the police. "We were held hostage for five months."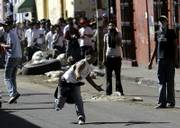 The protests began as a teacher's strike but quickly spiraled into chaos as anarchists, students and Indian groups seized the central plaza and barricaded streets throughout the city to demand Ruiz's ouster.
Eight people have died in clashes. Protesters claim that police and state forces - often in plainclothes - have shot at protesters, setting off the violence.
The federal government indicated that it had no intention of letting the protesters take back the city. Interior Secretary Carlos Abascal said the federal forces would stay until order had been established.
President Vicente Fox said he would implement programs to help Oaxaca recover its image as a top tourist destination. He did not elaborate.
Fox, who leaves office Dec. 1, had resisted repeated calls to send federal forces to Oaxaca until Saturday, a day after gunfire killed a U.S. activist-journalist and two residents.
The New York-based Committee to Protect Journalists called for the Mexican government to investigate the killing of activist-journalist Bradley Roland Will, 36, of New York. Protesters say local police shot him.
Copyright 2018 The Associated Press. All rights reserved. This material may not be published, broadcast, rewritten or redistributed. We strive to uphold our values for every story published.