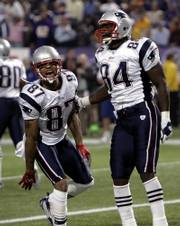 Minneapolis — Minnesota counts itself among the many NFL franchises trying to copy the New England Patriots' plan for success. The Vikings learned Monday night that they still have a lot of catching up to do.
Tom Brady beat Minnesota's relentless rushing defense by simply throwing over it for 372 yards and touchdowns to four different receivers, and the Patriots pounded the Vikings, 31-7, on Monday night to win their sixth straight regular-season road game.
New England's defense had four sacks and four interceptions, forcing Brad Johnson into a handful of uncharacteristic mistakes.
"The plan was to come out and put the ball in the air a little bit," Brady said, grinning. "The receivers made a lot of great plays, and it was a lot of fun, needless to say."
Still firing well into the fourth quarter, Brady didn't let up - going 29-of-43 to beat a defense that had been pretty decent against the pass, too.
New England (6-1) more than doubled Minnesota's average of allowing 15.8 points per game, setting the tone for an easy victory with an opening drive on which Brady completed all six of his throws for 94 yards.
"Whatever holes we had in the coverage, he found it," Vikings safety Darren Sharper said.
Johnson was no match for the unflappable, three-time Pro Bowl quarterback. Picked off three times, Johnson was 20-of-33 for 185 yards and forced to watch from the sideline for the final 12 minutes when backup Brooks Bollinger went in.
"The turnovers played into that," Vikings coach Brad Childress said, asked about the switch. "It's important you have respect for the football."
Minnesota's only score was a 71-yard punt return by Mewelde Moore in the third quarter.
Copyright 2018 The Associated Press. All rights reserved. This material may not be published, broadcast, rewritten or redistributed. We strive to uphold our values for every story published.