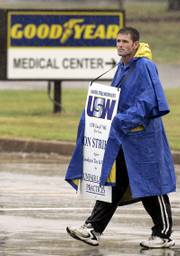 Akron, Ohio — Goodyear Tire & Rubber Co. said Monday that it plans to close a plant in Tyler, Texas, three weeks after workers at the plant and 15 others went on strike in part because of the tire maker's plan to shut down the factory.
The move will eliminate about 1,100 jobs and is part of Goodyear's strategy to end some of its private-label tire business.
The plant, which opened in 1962, has produced approximately 25,000 passenger and light truck tires per day.
More than 12,000 United Steelworkers members in Tyler and elsewhere in North America, including Topeka, went on strike Oct. 5 after months of talks with the world's third-biggest tire maker. No new talks have been scheduled.
The United Steelworkers, which represents Goodyear workers, said the announcement to close the Tyler plant was a slap in the face, particularly because the union took pay cuts, job losses and other concessions in 2000 to help get the company back on track financially.
"Now they seem committed to stripping away health care benefits from those who made the turnaround possible and to further close plants and abandon the business," said Tom Conway, USW vice president and chairman of the Goodyear negotiating team. "Their foolishness is outweighed only by their greed."
Goodyear has said the union refused to agree to help it remain competitive in a global economy. The union said the company's last proposal would have included two plant closings - the union says the other is in Gadsden, Ala. - and other concessions.
Goodyear said in June that it wanted to leave parts of the private-label tire business and that the decision would mean a reduction in capacity.
Goodyear previously announced to investors an aggressive strategy to reduce costs by more than $1 billion by 2008.
"We must take the steps necessary to reduce our costs and improve our competitive position," Jon Rich, president of North American Tire, said in a statement.
Copyright 2018 The Associated Press. All rights reserved. This material may not be published, broadcast, rewritten or redistributed. We strive to uphold our values for every story published.