Kansas City, Mo. — Standing alone in a far corner of Kansas City's tumultuous postgame locker room, Trent Green had the look of a solitary little boy pressing his nose against the candy store window.
In normal times after a thrilling victory by the home team, a crowd would be forming around the Chiefs' two-time Pro Bowl quarterback. Men and women bearing tape recorders and television cameras would swarm around him.
But Sunday after a 35-28 victory over Seattle, everybody wanted to talk to tight end Tony Gonzalez, running back Larry Johnson, and - most of all - quarterback Damon Huard.
Huard is 4-2 now since Green was knocked out of action in the Sept. 10 opener, a remarkable run that has kept the Chiefs afloat and no one dared expect from a guy who hadn't started in the NFL since 2000.
He has thrown only one interception. At Arrowhead Stadium, he is 3-0, topping the 100-point quarterback rating in all three starts, with 752 yards passing and five touchdowns.
Against the Seahawks on Sunday, the poised and confident backup had his best game ever despite a painful groin pull that almost kept him off the field. He threw for a career-best 312 yards with one TD and no interceptions and triggered once again a rising tide of speculation.
What happens when Green gets back, probably in a couple of weeks?
For his part, Huard is maintaining the same good-soldier attitude that kept him in line for six years as a backup, often the all-but-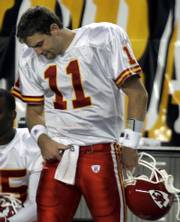 forgotten No. 3 on the depth chart.
"The fact you're talking about it is a good thing because that means we're winning games," he said. "But Trent's the starting quarterback, and this year on this team, my job is to back him up. And to fill in if he's out. That's what I'm trying to do now."
Green was cleared only last week to start light practice. Coach Herm Edwards said Monday that he should know early this week if the veteran quarterback, the Chiefs' acknowledged leader, will participate in team drills.
Will he play Sunday?
"I doubt it," Edwards said.
The decision is not growing any more difficult as Huard continues to excel week after week, Edwards insisted.
"No, it's really not. Damon's done a fantastic job. He's going to continue to play well as long as he has to play. There's going to come a point in time when Trent is going to be available to play. When that time comes, we've got to get him back out there and ready to play."
The reasons for putting Green back under center are obvious, Edwards said.
"What (Green) has done here, his leadership role, the type of player you anticipate him to be. He's won a lot of games for this football team. He's one of the leaders on this team. When he comes back, you get another shot of adrenaline for your football team, which is always a good thing."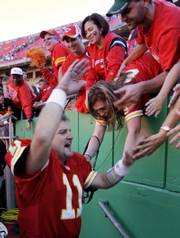 Huard's most impressive feat may be the way he helped hold the Chiefs together after a humiliating 45-7 setback to Pittsburgh.
That loss left them 2-3 and reeling. It was the most lopsided the franchise has experienced in a nonstrike season in 22 years. Next up, in a two-game home stand, were the division-leading San Diego Chargers and the defending NFC champion Seahawks.
But instead of folding, the Chiefs got hot. Victories over the Chargers and Seahawks have put them right back in the AFC West chase, just one game behind San Diego and Denver.
"I told these guys that (Pittsburgh) was one game, and it's not who we are," Edwards said. "They did a good job of making sure that they bought into that. We had one of those days. Some of the leaders on this team grabbed guys and reminded everybody of that. It's a testament to their resilience."
Beating a contender was something the Chiefs hadn't done all year. Now they face another hurdle: beating a contender away from home. Sunday will find them at St. Louis (4-3).
"This is a big game for us this week, going to St. Louis," Edwards said. "We're trying to beat a winning team on the road. We haven't done that this year. That's the next big step for us."
Copyright 2018 The Associated Press. All rights reserved. This material may not be published, broadcast, rewritten or redistributed. We strive to uphold our values for every story published.