The school bus doesn't pass down this gravel road anymore.
There aren't many youngsters around in Sarcoxie Township, in southern Jefferson County. You'd be more likely to find someone with gray hair who talks about the way things were when students would milk cows until the school bell clanged, then run to the white one-room schoolhouse for the daily lessons.
Everett Nottingham remembers those days.
Nottingham spent eight years at Sunnyside School from 1930 to 1938. He was the lone boy scrunched at the end of a hard wooden bench, as far away as possible from the five girls who made up the rest of his class.
A lot has changed since those times. But as other one-room schoolhouses become barns or simply rot away, the Sunnyside School building hasn't changed much at all.
"It's never looked this good," Nottingham says.
Credit for that goes to a group of older women who have been caretakers for the school for 51 years. They're members of the Sunny Valley Extension Homemakers Unit, which gathers monthly to talk about sewing, cooking, area history and how to preserve their little schoolhouse through craft sales and running concession stands.
Sunnyside School may not be filled with children, but it's still a busy hub for this rural neighborhood, often host to elections, township meetings, family reunions, vacation Bible schools and wedding receptions.
"We've always maintained it, kept it up," says Doris Nottingham, Everett's wife and a member of the EHU group. "It's the glue that holds the community together."
Photo Gallery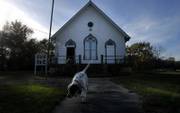 Old school
Beloved building
The dates on the encyclopedia title pages say 1919.
The canvas curtain in front of the stage, which dates back to the 1940s and is painted to look like a river scene, is still here. It also lists the names of businesses that helped pay for it - meat lockers, tractor implement companies, morticians.
In the entry of the school, tin cups hang on hooks, the same way they would have when the 30-some students had to dip their drinking water from a bucket brought in each morning.
The school, on Republic Road near the Rim Rock Farm cross country course, was designed by John Haskell - the Kansas architect known for designing massive edifices such as the Statehouse and the Douglas County Courthouse - and built in the 1880s.
It was a school until 1955, when students started going to the McLouth school district.
The EHU group began leasing it from the McLouth district shortly afterward. There's no fee for using the building, though the 23-member EHU does accept donations.
Craft and bake sale and chili feed
Who: Sunny Valley Extension Homemakers Unit When: 9 a.m.-3 p.m. Saturday Where: Sunnyside School, just south of the intersection of Republic Road and 13th Street in southern Jefferson County
"A lot of people cherish this old building," says Marilyn Sharkey, the organization's president. "We want to keep it in its natural condition."
That doesn't mean it's exactly the same as it was 100 years ago. There's a ramp for disability access, and there's heating and air conditioning.
A recent decision to cover the hardwood floors with donated carpet met with some grumblings, though everyone agrees their toes are much warmer now during meetings. There's even talk of installing indoor plumbing to save walks to the nearby outhouse, and of remounting the old bell that had been corroded with pigeon droppings.
All of that is in addition to the regular maintenance, like an upcoming roof replacement, that goes on. Most of the money comes from an annual craft sale - this year's is Saturday - and from running the concession stand at Rim Rock.
"Being an old building," Sharkey says, "it takes a lot of upkeep."
'Lifelong friends'
It didn't take long for the welcome wagon to hitch up to Dorothy Davis' house.
Davis moved to southern Jefferson County in 1967, and members of the Sunny Valley EHU came to greet her and invite her to join.
"We didn't know anybody in the neighborhood," Davis says, "so it was a real treat to go and meet my neighbors. The most important thing to me is the lifelong friends I've made by attending the unit. Some of them have passed away, but some of the families are still here or their children are in the area."
The schoolhouse made an immediate impression on her.
"I thought it was a really neat building," she says. "A lot of (schoolhouses) were used for old barns, or they just fell down. That one is very unique. There's lots and lots of memories there."
Doris Nottingham, who has lived across the street from Sunnyside School since 1953, keeps an eye on it during the day. Sometimes, history buffs come by for a look, or former pupils come by to see if the old building is still standing.
She's 77, and she's not sure who will watch for the building in the future.
"What worries me," Nottingham says, "is unless we can get more people to join, as we get older - and we've lost a lot of members to death - will somebody else be there to take it over?"
Schoolhouse sentiment
For now, though, Sunnyside School is still the thriving symbolic center of Sarcoxie Township. The EHU group members, who are in their 50s, 60s and 70s, take pride in keeping the old schoolhouse looking as good as it did when it was jam-packed with children.
Recently, the women met with a designer to choose a new paint color for the inside room. It had been turquoise, and they wanted to make it white - probably its original color.
Sharkey says they met for quite a while to determine just the right shade of off-white.
Recalling the story, she laughs.
"Can you imagine," she asks, "trying to get 23 women to agree on a color?"
Copyright 2018 The Lawrence Journal-World. All rights reserved. This material may not be published, broadcast, rewritten or redistributed. We strive to uphold our values for every story published.