Kansas City, Mo. — When the running game is this strong, the Kansas City Chiefs can afford a couple of disastrous plays.
They overcame a 10-point swing on a bizarre botched field goal and later allowed the Seattle Seahawks - whom the Chiefs dominated statistically all game - to take a brief fourth-quarter lead. But Larry Johnson's fourth touchdown snuffed Seattle's comeback hopes and gave Kansas City a 35-28 victory Sunday at Arrowhead Stadium.
"We made it hard on ourselves," said Johnson, who accounted for 155 of the Chiefs' 191 rushing yards. "We gave them more chances than we needed to."
Kansas City was poised to take a 16-point lead late in the third quarter, but holder Dustin Colquitt fumbled a good snap on a field-goal attempt. Colquitt fumbled again after he picked up the ball and tried to roll out, and Seattle's Kelly Herndon returned it 61 yards for a touchdown.
Colquitt appeared to be attempting a forward pass on the play, but the fumble ruling was upheld after K.C. coach Herm Edwards' challenge.
"The holder looked like he was attempting to throw the ball," referee Pete Morelli said after the game, "but it was just rolling out of his hand without any control."
Colquitt said he had little doubt it was an incomplete forward pass.
"It was in my mind," he said. "I know what my arm did."
Lawrence Tynes missed a 50-yard field-goal attempt two possessions later, and the Seahawks seized the chance to create another nightmare for the Chiefs.
On first down near midfield with 6:30 to play, backup Seattle quarterback Seneca Wallace pump-faked to the right sideline. K.C. cornerback Ty Law fell down, and Wallace found Darrell Jackson for the easy go-ahead touchdown.
Photo Gallery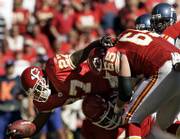 K.C. Chiefs vs. Seattle Seahawks
Chiefs quarterback Damon Huard fought fire with fire, hitting Eddie Kennison for a 51-yard pump-fake pass on the ensuing Chiefs' drive. Johnson darted into the end zone off the right tackle three plays later. It was his 39th carry of the day - a Chiefs' team record. He ran for three touchdowns and added another on a nine-yard reception just before halftime.
"We've got a lot of playmakers on this offense," Huard said. "It's my job to get them the ball."
Huard's favorite aerial targets were Kennison and Tony Gonzalez, who each had six receptions for over 100 yards.
The Chiefs amassed 499 yards of offense and held the ball for over 42 minutes.
"We had some miscues, and they were very, very evident," Edwards said. "But at the end, this league always goes down to the fourth quarter."
One more Kansas City snafu gave Seattle a glimmer of hope in the final stanza. Jared Allen intercepted a tipped ball just before the two-minute warning, seemingly ending the Seahawks' chances. After replay review, officials ruled that receiver Deion Branch had stripped the ball from Allen as they were falling out of bounds at the end of Allen's ill-advised return.
"I know the right thing to do is go down," Allen said. "But the fun thing to do is try to score. So I went ahead with the fun thing to do.
"We laugh about it now because we won."
Kansas City will begin a two-week road stint Sunday at St. Louis.
¢ Huard starts: After three days of speculation about a groin injury sustained in practice, Huard started and completed 17 of 25 passes for 312 yards and a touchdown - good for a 124.1 quarterback rating. His only major miscue was a first-quarter fumble that led to Seattle's first touchdown.
"Once you get into the heat of battle and get the blood flowing, you don't feel much," he said.
Huard, who is from Yakima, Wash., said there was "no way" he would have missed the Seattle game.
Copyright 2017 The Lawrence Journal-World. All rights reserved. This material may not be published, broadcast, rewritten or redistributed. We strive to uphold our values for every story published.