BELLEVILLE — When Paul Boyer was a soldier in the Korean War, he didn't request care packages of cookies and other treats.
Instead, he wanted his family to send bundles of wire, which he used to construct animated figurines to amuse fellow soldiers and ease his boredom. The figurines were powered by windmills made from tree limbs.
"When you sat in a foxhole 24 hours a day, it helped to do something," said Boyer, 75.
For 63 years, he has created - and found a market for - animated carvings, motion machines and whirligigs, using material such as soft pine and old washing machine timers.
His work has been showcased for more than 30 years at the North-Central Kansas Free Fair in Belleville, and for a while, it was shown in a local gallery.
Boyer is a former carpenter, but he gave that up and devoted more time to his craft following a car crash in 1965 that led to a leg amputation.
"Some have taken up to a year or more," he said. "It's very meticulous work, so you have to be patient. But I love doing it. I could work on this 15 hours a day.
"I have a wild imagination and sense of humor, and sometimes I'll put something together just to see if it works," Boyer said with a laugh.
That sense of humor is illustrated by some of his larger and more intricate creations:
¢ Figurines of sweaty men working in a sandpit, where one turns a crank that scoops sand that is dropped into a receptacle and carried on a conveyer belt to be dropped into a large hopper.
Photo Gallery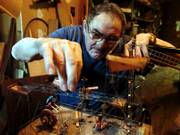 Paul Boyer
¢ A frightening-looking woman who sits on a wooden chair with a hole in the seat and is reading a magazine while beating her leg up and down and emitting what can politely be called loud gas expulsions.
¢ Three unsanitary hillbillies making moonshine; one is stirring the pot and another is filling jugs while the third figure, using a spyglass, watches for the law.
¢ A golfer who putts a ball into a hole, only to have it reappear when pushed out by a gopher.
Boyer said the golf sculpture is his most popular piece - he estimates that since 1970, he's made about 400 copies, which he's sold at $600 each.
"I couldn't build them fast enough," he said. "I heard one of them was sitting in Arnold Palmer's office."
Boyer's price for other pieces has ranged from $50 to $500, depending on the size, intricacy and time invested.
One sculpture Boyer considers to be a personal masterpiece is a desktop calliope. He hand-carved the steam whistle pipes from cedar and powered the calliope with a refrigerator motor. Boyer estimated it took about 500 hours to build.
He has no intention of selling it, although he has received offers.
"I once was offered $20,000, but I wouldn't sell it," Boyer said. "The same person offered me $5,000 just for the blueprints, but I wouldn't give it to him."
Boyer has a personal reason for keeping the calliope: The dozens of songs programmed to play through the steam pipes were recorded with help from his late wife, Cecila, a piano player who died six years ago.
"When I hear the calliope, I can hear mother play," said Ann Lewellyn, who lives in Belleville and is one of Boyer's four children. "It makes me cry, because when I hear it, I can picture both of them together again."
A gallery in Belleville containing about 70 of Boyer's sculptures was operated for nine years by Boyer's brother and sister-in-law, John and Linda Boyer. Because of time commitments and health reasons, John and Linda Boyer closed the gallery in 2005.
John Boyer said many generous offers were made to buy his brother's gallery collection, but Paul Boyer refused to sell.
"It's like family to him," John Boyer said. "I hope someone else will reopen the museum because they're quite unusual and humorous pieces."
Lewellyn said it was her dad's wish that his collection stays together and stays in Belleville.
"It's his life's work, and he wants to be close to his carvings," she said.
Copyright 2018 The Lawrence Journal-World. All rights reserved. This material may not be published, broadcast, rewritten or redistributed. We strive to uphold our values for every story published.