Denver — Maddeningly meticulous and impeccably precise, this was Peyton Manning at his cruel best.
Skewering a Denver defense that was designed specifically to stop him, Manning led the Indianapolis Colts over, around and through the Broncos on Sunday, throwing for 345 yards and three touchdowns to Reggie Wayne for a message-sending 34-31 victory.
"When you play a guy like Peyton Manning, and the guy's going to put it on there on the money, what can you do?" Broncos cornerback Champ Bailey said.
Not much, as the Broncos (5-2) found out repeatedly, watching Manning lead the Colts to scores on seven of their final eight drives - the only miss coming when he kneeled on the ball to end the first half.
Manning's final drive set up the winning points on a 37-yard field goal by Adam Vinatieri with two seconds left. It made the Colts the first team to go 7-0 in consecutive seasons since the 1929-31 Green Bay Packers did it three straight times.
Manning made a mockery of Denver's cushy zone defense. Wayne dissected it best, catching 10 passes for 138 yards, most of them in front of Broncos cornerback Darrent Williams.
It was Williams who Denver picked first in the 2005 draft, a defense-heavy class that was part of an ongoing effort by the Broncos to shore things up after 41-10 and 49-24 playoff losses at Indy in 2003 and '04.
But the Broncos aren't the only team that uses the offseason to get better. Manning's work ethic is impeccable, and in a 2006 full of stops and starts, he was practically perfect against the team many thought would be Indy's biggest challenger.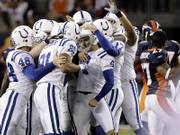 "When you're throwing against Bailey and Williams, that's why you work in April, May and June," Manning said. "That's why you throw a lot in the offseason, with nobody covering. You pretend it's Champ Bailey covering. You have to throw a perfect throw and run a perfect route."
The Colts gained 437 yards and fell 10 points short of matching what the Denver defense had allowed all season. The Broncos were being compared to the best of all time.
Instead, those comparisons seemed more apt for Manning, who went 32-for-39 for 345 yards with a passer rating of 129.2. He wasn't intercepted, wasn't sacked and probably won't even need to send that white Colts uniform to the laundry room.
"He amazes me," Broncos coach Mike Shanahan said. "Just his leadership qualities, and his sense of urgency, the way he reads defenses. He did a heck of a job today."
Manning's counterpart, the much-maligned Jake Plummer, won't have to worry about losing his job this week. He did a super job matching Manning, leading a Denver offense that hadn't scored 20 points all season. Plummer went 13-for-21 for 174 yards and a passer rating of 104.1. Rookie running back Mike Bell came off the bench for 136 yards and two scores, both career highs.
But this was one of those games where the team that has the ball last was going to win.
Wayne's third touchdown gave Indy a 31-28 lead with 3:35 left. But when Bell answered immediately with a 48-yard run, it was obvious he might have done it too quickly. Indeed, the Broncos stalled at the Colts 30 with 1:49 to go and had to settle for a tying field goal. And then, it was Indy's game to win.
Vinatieri, brought to Indy to make kicks exactly like this, nailed his 19th game-winner in the final minute of regulation or in overtime to cap a 4-for-4 day. Denver's desperation kickoff return went nowhere and the Broncos saw their 13-game, regular-season home winning streak ended.
Falcons 29, Bengals 27
Cincinnati - Michael Vick threw three touchdown passes, repeatedly slipping out of tacklers' grasp, while leading the Falcons to victory over a Bengals team that had never seen anything quite like him.
The mercurial quarterback has led the Falcons (5-2) to consecutive wins over the defending Super Bowl champion Steelers and the defending AFC North champion Bengals. Vick has thrown seven touchdown passes in the last two games, showing he's much more than a runner with a strong arm.
Cincinnati (4-3) couldn't run him down or slow down his passing.
Many of the Bengals' defenders had never faced Vick, who put on quite a show in his first career visit to Cincinnati. Vick went 20-of-28 for 291 yards and left would-be tacklers scattered all over the field while running for another 55 yards.
Ravens 35, Saints 22
New Orleans - Steve McNair showed no signs of a recent concussion, and Brian Billick demonstrated he still can call plays.
McNair ran for a touchdown and passed for two more as Baltimore ended a two-game losing streak. The Ravens' defense was dominant as well, accounting for two touchdowns on a pair of 12-yard interception returns by Louisiana natives Ronnie Prude and Dawan Landry.
They also knocked Reggie Bush out of the game in the fourth quarter, although it wasn't immediately clear how serious the injury was as he limped to the locker room favoring his left ankle.
Giants 17, Buccaneers 3
East Rutherford, N.J. - Despite playing without three injured defensive starters and losing another early, the Giants held Tampa Bay to 174 total yards and set up a score with a turnover deep in Buccaneers' territory.
Eli Manning and Plaxico Burress provided the offense as the Giants (5-2) took an early 14-0 lead en route to their fourth straight win. They combined on a seven-yard touchdown pass and a 25-yard wind-blown catch that led to a one-yard touchdown run by powerhouse halfback Brandon Jacobs.
Jay Feely added a 31-yard field goal with 3:43 to play.
Matt Bryant, who had a game-winning 62-yard field goal last weekend against Philadelphia, kicked a 43-yarder for the Bucs (2-5), who saw their two-game winning streak ended.
Jaguars 13, Eagles 6
Philadelphia - Fred Taylor keyed a power running attack and scored on a 15-yard run, backup quarterback David Garrard was efficient, and Jacksonville (4-3) shut down Donovan McNabb.
The Jaguars held the Eagles to 229 total yards - 164 before the last drive. Philadelphia (4-4) came in averaging a league-best 417 yards per game, but couldn't generate much, even with the return of dynamic receiver Donte' Stallworth.
Meanwhile, Jacksonville did nothing fancy on offense without injured quarterback Byron Leftwich and relied on Taylor and Maurice Drew, who totaled 103 and 77 yards rushing respectively. Of the Jaguars' 285 total yards, 209 were gained on the ground.
Garrard finished 10-of-17 for 87 yards, while McNabb was 18-of-34 for 162 yards. Along with the rest of the Eagles, McNabb was booed off the field.
Bears 41, 49ers 10
Chicago - The unbeaten Bears' quick defense ravaged the mistake-prone 49ers, and their offense moved with ease. And by halftime, the Bears were cruising 41-0.
Wearing bright orange uniforms on a spectacular autumn day, the Bears ran their record to 7-0 for their best start since the 1985 Super Bowl champions won their first 12.
The Bears turned two fumble recoveries and a one-handed interception by Brian Urlacher into a 24-0 first-quarter lead, setting the franchise record for first-quarter points. And they matched a franchise record for points in a first half, set in 1948 against Washington, with their 41-0 lead.
Rex Grossman rebounded from his worst game to complete 23 of 29 passes for 252 yards and three touchdowns in three quarters.
The 49ers (2-5) had four first-half turnovers and Chicago turned each one into a touchdown.
Packers 31, Cardinals 14
Green Bay, Wisc. - Ahman Green, who struggled early this season after returning from a torn right quadriceps, scored two first-half touchdowns as Green Bay beat Arizona.
Green and backup running back Vernand Morency both surpassed the 100-yard rushing mark, and Brett Favre added a rare rushing touchdown as the Packers (3-4) won their first home game under first-year coach Mike McCarthy.
The Packers have won two straight after losing four of their first five, including three at Lambeau.
Titans 28, Texans 22
Nashville, Tenn. - Vince Young ran for a touchdown and threw for another, and the Titans won consecutive games for the first time since the end of the 2003 season.
The Texans (2-5) lost their 11th straight road game, wasting backup quarterback Sage Rosenfels' three TD passes in the final 17 minutes. His last pulled them within 28-22 with 1:54 left, and the Texans tried an onside kick.
Chargers 38, Rams 24
San Diego - On a bounce-back Sunday for San Diego, LaDainian Tomlinson and Shawne Merriman had their biggest games since opening night.
Tomlinson rushed for a season-high 183 yards and scored three touchdowns to lead the Chargers (5-2). Tomlinson surpassed 8,000 yards rushing for his six-year career.
Raiders 20, Steelers 13
Oakland, Calif. - Chris Carr returned an interception 100 yards for a touchdown, Nnamdi Asomugha also took back an interception by Ben Roethlisberger for a score, and the Raiders mounted a late goal-line stand to hold on for a victory.
Roethlisberger, playing a week after being knocked out with a concussion against Atlanta, struggled from the start against the Raiders (2-5). He threw interceptions on two of Pittsburgh's first three possessions and then twice again in the fourth quarter.
Browns 20, Jets 13
Cleveland - A potential one-handed tying touchdown grab by New York tight end Chris Baker in the final minute was called out of bounds, giving the Browns a win over the Jets.
Trailing 20-13, the Jets (4-4) stopped the Browns (2-5) on three straight running plays and got the ball back on a punt with 1:56 left.
Cowboys 35, Panthers 14
Charlotte, N.C. - Tony Romo rallied Dallas from a 14-point first-quarter deficit, throwing for 270 yards and a touchdown, and Julius Jones rushed for 94 yards and a score as the Cowboys beat the Panthers. Dallas set a team record with 25 fourth-quarter points.
Romo, starting in place of the benched Drew Bledsoe, slowly led the Cowboys (4-3) back, with poise, using a variety of short passes.
Copyright 2017 The Associated Press. All rights reserved. This material may not be published, broadcast, rewritten or redistributed. We strive to uphold our values for every story published.