So you want a break on your property taxes.
Historically, the best way to get one of those in Lawrence has been to be a big shot in the business world and decide to build a large industrial plant or add a wing onto an office building to employ a few hundred additional people.
Soon, though, the common person might have a chance to join the club. Lawrence leaders are exploring using for the first time a state law that would allow regular homeowners to receive a substantial rebate on their property taxes.
It is called the Neighborhood Revitalization Act, and it gives tax breaks to homeowners who make improvements to their property, if they live in a neighborhood that City Hall has designated as an area that needs spruced up.
"It gives people an opportunity to be rewarded for investing in an older neighborhood," said Janet Good, president of the East Lawrence Neighborhood Assn.
A rebate
Here's how the program works: Say a homeowner has a $100,000 house that badly needs repair. The homeowner pays to have the house fixed - a new roof, siding, landscaping and even a small addition. But the improvements increase the value of the property to $150,000, which in turn increases its property taxes.
Under the Neighborhood Revitalization Act, the property owners would receive a rebate on the difference between the taxes paid on the $100,000 property versus those on the $150,000 improved property.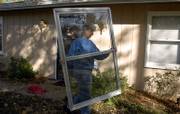 City commissioners can structure the program to rebate up to 100 percent of the taxes for up to 10 years. If the program would include a rebate of taxes paid to the county and school district, those two boards also must agree to the program.
In addition to using it to fix existing homes, the program could apply to building a new home on a vacant lot, if it is in a target neighborhood.
"I think it is a great way to partner with private developers," City Commissioner David Schauner said. "I really like that it doesn't cost the taxpayers any money up front. It is like a rebate program when you buy something in a store. You send us the money and we send some of it back."
Test case
City Manager David Corliss is gathering all sorts of information in anticipation of introducing the city's first neighborhood revitalization district in the coming weeks.
Developer Bo Harris has expressed interest in using the state law as part of his redevelopment efforts near Eighth and Pennsylvania streets in East Lawrence.
Harris has proposed the city use the act as part of the project, and he in turn would use the rebate money to finance several infrastructure improvements, such as street work, stormwater projects and parking improvements needed for his development.
City commissioners have expressed interest in the idea because the infrastructure improvements total nearly $2 million, and city commissioners don't have that money designated in their 2007 budget.
More about the Kansas Neighborhood Revitalization Act
But city leaders also are interested in using the act as part of the project because it could serve as a good test case.
"I think this will be the template for other plans in the future," Corliss said. "It has the potential to work for a number of different neighbors."
It likely won't work for all neighborhoods, though. The state law requires the act only be used in areas that show signs of blight or have a predominance of historical structures. That means newer neighborhoods probably wouldn't be eligible.
But Sandy Jacquot, director of law for the Kansas League of Municipalities, said the act is one of the more flexible in the state. She said city governments had broad authority to draw district lines as they saw fit.
The act also can be applied to commercial property. For example, Topeka used the act to provide a 95 percent tax rebate to the $22 million Capital Plaza Hotel project. That's an example of a project that would not be eligible to receive a traditional tax abatement under the state's law but was able to receive the equivalent of one by using the Neighborhood Revitalization Act.
Unintended consequences
Before the city starts using the law, Corliss said he wants to consider several big-picture issues. Chief among them is whether designating a neighborhood as a revitalization zone will cause property values to go up on all homes in the area. That could happen if potential homeowners view the neighborhoods as being more desirable because each home would come with the potential of a tax break.
Other Kansas cities that have used the program, however, haven't reported that problem.
Patty Gilligan, who oversees the program in Emporia, said city leaders considered that factor when they started the program about 10 years ago.
"That hasn't been a problem," Gilligan said. "Really, the only time we have had people upset is if we have to tell them that they aren't eligible for the program because they aren't in a target area."
Gilligan said the program in Emporia has spurred $7 million worth of investments since 2000.
"We definitely have a lot of neighborhoods that look better," Gilligan said. "This isn't the only thing we have done, but this has been a significant part of the success."
Good, of the East Lawrence Neighborhood Assn., said she's willing to risk that the program could have some unintended consequences.
"There's always the potential for a downside with anything," Good said. "But I know there is a definite downside to watching old homes just deteriorate."
Copyright 2018 The Lawrence Journal-World. All rights reserved. This material may not be published, broadcast, rewritten or redistributed. We strive to uphold our values for every story published.