Dallas — Fabiola Da Silva has been around so long that the inline skating pioneer is now more of an anachronism, a back-flipping reminder of the days when women joined men in attempting stunts off a 14-foot vertical ramp.
Women are disappearing from showcase alternative sports events such as the X Games and the LG Action Sports World Championships this weekend at Reunion Arena.
Of the 175 athletes who were scheduled to compete over the weekend in BMX, skateboarding and inline skating events, only eight are women, said Rick Bratman, president of ASA Events, which organizes the action sports tour. There is one event for women at the championships, the inline street competition.
This year at the better-known X Games, a midseason all-star event, there were two events for women. When the X Games started in 1995, there were six.
Although inline skating has high participation rates, it never caught on with die-hard fans when the alternative sports boom hit in the mid-1990s, Bratman said. Part of the reason is that it never developed the rich culture and language that define sports such as skateboarding and surfing.
"It didn't have any culture," Bratman said. "It didn't have its own vibe, its own trick names. It's not as technical as skateboarding, which is one of the big knocks on it."
It also doesn't have much of an infrastructure, lacking the bureaucracy that funnels millions of American children into soccer or baseball leagues.
Unlike tennis or volleyball, the sports featured on the action tour don't fall under the auspices of a national governing body such as the U.S. Olympic Committee, said Donna Lopiano, the CEO of the Women's Sports Foundation. Olympic sports are required by federal law not to discriminate by gender.
Action or extreme sports are run by event promoters who are outside the mainstream of American sports organizations, Lopiano said.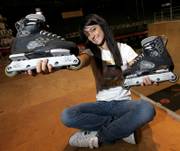 "These people are not discriminating purposely on the basis of sex," Lopiano said. "They are promoters whose range of thinking is limited and knowledge of women in sports is limited, and they do what is easy and what they know. There's no developmental pipeline for women."
Six of the eight women at the world championships this weekend competed only in the street inline competition. The Brazilian-born Da Silva and Ayumi Kawasaki of Japan competed in the street competition against the women and in the vertical ramp competition against the men.
At 27, Da Silva, who competed in the second X Games, is four years older than the next-oldest woman at the world championships. All of her main competitors from a decade ago retired or dropped out.
"As the years came down, less girls were competing and it became only like two women," Da Silva said. "You couldn't have competition with two women. Everybody just went in different directions either with school or different lifestyles."
The sport's future is tied to the fortunes of athletes such as Da Silva, someone in a fringe sport with potential for the crossover success enjoyed by skateboarder Tony Hawk.
What separates Da Silva from other popular female athletes is that she competes and succeeds in her sport against the best men in the world, Bratman said. Although she has never won a vertical ramp competition against men, she regularly finishes among the top five.
She is also one of a handful of inline skaters, male or female, who has executed a double backflip in competition.
"She's the real deal," Bratman said. "Fabiola is in my mind the best female athlete in the world. She's the only female athlete I can think of who competes against men and regularly finishes in the top five. Serena Williams could be the best female tennis player in the world, and she would lose love and love to the 1,000th-ranked man in the world."
Da Silva hasn't entered the mainstream public consciousness, said Scott Sanford of Davie Brown, a sports and entertainment marketing firm, and her endorsements are strictly inline-skating related.
But that could change.
Bratman's plan is to line up what he calls mainstream marketing deals for Da Silva that have nothing to do with inline skating. He said she will be in a couple of national advertising campaigns in 2007.
Da Silva worries more about landing her next double backflip than her crossover appeal. But she does find it amusing that, at 27, she's the old lady of her sport.
"I'm the pioneer that just kept doing it for so many years," Da Silva said. "I just try to do well for myself and learn tricks and try to push my sport. And if I am doing it, I think a lot of other women could do it."
Copyright 2018 The Associated Press. All rights reserved. This material may not be published, broadcast, rewritten or redistributed. We strive to uphold our values for every story published.