COLUMBUS, OHIO — When Roy Wadding sits down at a bar, he makes sure to scan the draft selection before ordering a beer.
His eyes zip from one tap handle to the next, searching for something different, something he has never tried before.
"I see something new, and I gravitate to it," the 51-year-old Tampa., Fla., man said recently at a Winking Lizard Tavern in Columbus.
Such is the power of an eye-catching tap handle.
Breweries have tried for decades to attract attention by making tap handles larger and more colorful, but the microbrewery movement has brought a proliferation of artsy and exotic ones.
Some are full-fledged artwork, a small brewery's main advertising and a way to entice beer drinkers to sample a specific brand in the competitive craft market - specialty brews typically made in small regional or local breweries - which grew 11 percent in the first six months of this year.
Take Goose Island Brewing Co. in Chicago, for example. It has a long ceramic handle sculpted in the shape of a squawking goose. Three Floyds Brewing Co. in Hammond, Ind., has one with a 22-karat gold crown. Wychwood Brewery Co. Ltd. in Oxfordshire, England, has a hideous, bug-eyed hobgoblin hugging a giant sword.
You name it and someone has fashioned it into a tap handle: Orca. Saxophone. Bloody hatchet. Pelican. Lightning bolt. Rocket ship. A turtle floating on a raft. Frog leg.
Breweries are designing the tap handles to distinguish themselves from their peers in some bars that can feature dozens of beers on draft.
About 10 percent of all beer sold in the United States is on draft, including kegs sold retail.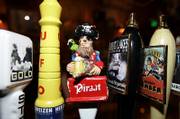 "When I sit at the bar and watch people come in, the first thing they look at are what taps you have," said John Lane, a partner with Cleveland-based Winking Lizard Tavern, which has 12 locations in Ohio. "The tap handle is like a trophy."
Today there are 1,371 craft breweries in the country, with annual retail sales of craft beer hitting $4.3 billion last year, according to the Brewers Assn. While craft beers hold only about 3.5 percent of the overall beer market in the United States, the segment of industry is growing.
Craft beer sales are up 11 percent in the first six months of this year, following increases of 9 percent last year and 6.9 percent in 2004.
Copyright 2018 The Associated Press. All rights reserved. This material may not be published, broadcast, rewritten or redistributed. We strive to uphold our values for every story published.