For those who enjoy BCS chaos, the fun starts now.
Southern California's loss to Oregon State was the first and most significant step toward giving the Bowl Championship Series an impossible task of putting together a title game that will satisfy everybody.
The Beavers' 33-31 upset Saturday had fans of highly ranked one-loss teams rejoicing from Gainesville, Fla., to Berkeley, Calif.
Don't get too down, Trojans. While you gave up control of your destiny in the championship race, you're not out of it either.
When the BCS standings came out Sunday, Ohio State and Michigan were still on top. It hardly mattered that West Virginia was slightly ahead of Florida in third place, with Louisville and Auburn also close behind. The issue is a long way from being settled. In fact, it probably won't ever get settled.
After Sunday, there were six unbeaten teams in Division I-A. Only three of those teams can end the regular season undefeated: The Ohio State-Michigan winner; one of three Big East teams and Boise State if the Broncos can run the Western Athletic Conference.
There's no question about whether an unbeaten Ohio State or Michigan deserves a spot in the title game on Jan. 8. The one that wins out is going to Glendale, Ariz.
That second spot is going to be up for much debate, and there will be more than one right answer.
The best-case scenario for the BCS now - if you want to call it that - is for West Virginia, or Louisville to remain perfect and lay claim to the second spot in the title game. But that's not going to go over well with those who don't think much of the Big East.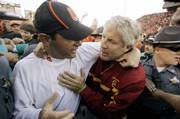 The Big East is no longer the Big Least. It's better at the top than the Atlantic Coast Conference. But check out Florida's schedule and try making a case that if the Gators finish 12-1 and are champions of the toughest conference in the nation they don't deserve to play for the national title, even ahead of an unbeaten Big East winner.
OK, so let's put the Gators in there against Ohio State or Michigan - and then go tell West Virginia coach Rich Rodriguez or Louisville's Bobby Petrino, "Sorry, your perfect record isn't perfect enough."
If that's the best scenario, what's worse?
How about no undefeated Big East teams?
It's very realistic that neither West Virginia nor Louisville - nor Rutgers (stop laughing, the Scarlet Knights are good) - goes undefeated.
At that point all the one-loss teams get to step up and say, "Hey, what about us."
Texas, California, Notre Dame, Auburn and Tennessee are all still in the mix. USC is damaged but not done.
Copyright 2018 The Associated Press. All rights reserved. This material may not be published, broadcast, rewritten or redistributed. We strive to uphold our values for every story published.