Don't call it a comeback. Not yet, anyway.
But go ahead and label it a big step in the right direction for Kansas University's football team. The Jayhawks' 20-15 victory over Colorado on Saturday was sorely needed and stunningly sparked by : well, none other than Sparky himself.
That's the nickname coach Mark Mangino gave last spring to freshman quarterback Todd Reesing, who burned his red shirt and carried the Jayhawk offense in the second half Saturday at Memorial Stadium.
With him behind center, KU erased a 9-0 deficit and squeaked out its first Big 12 Conference victory of 2006.
It has been a year full of surprises for Kansas, now 4-5 overall and 1-4 in conference play. But Reesing's emergence shot straight to the top of the list.
Heck, it saved the Jayhawks' season for at least one more week.
"I know a lot of the seniors that I'm real good friends with want to be in postseason play really bad," Reesing said. "We're only two wins away from doing that. If I give us the best chance because of injuries and whatnot, I want to help the team out."
Reesing was the last resort after Kerry Meier's shoulder injury and Adam Barmann's ineffective play forced Mangino's hand at halftime. The Jayhawk coach perhaps saw it coming a week ago and told Reesing after last week's Baylor game to be ready - that red shirt might not last.
Photo Gallery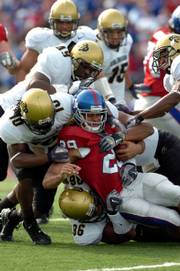 KU vs. Colorado football
"I talked with Todd on the bus after last week's game about the possibility that he could be pressed into service," Mangino said. "He was going to have to get ready for some playing time this week and prepare. And you can see he was prepared."
Reesing, who's nickname came from Mangino uneventfully at a quarterback meeting earlier this year, threw for 106 yards and rushed for 90 more in one half, but that's not the story.
Truth is, Reesing looked just like what KU's offense needed. After a quick interception - c'mon, freshmen will have jitters - Reesing managed the offense straight toward the end zone on three straight possessions.
It started late in the third quarter, when he found fellow freshman Jake Sharp on a pass downfield for a 42-yard reception and a first down. Right there, Sparky lit the spark Kansas needed.
"When I pulled up and threw the ball, Jake hadn't turned around yet," Reesing said. "I'm thinking, 'Just turn around and catch the ball, Jake.' He finally did, and at that point I knew we were going to start clicking."
Now it was a matter of getting an estimated 39,313 fans to believe after four weeks of building cynicism. The crowd finally amped up for good three plays later, when Reesing found Jon Cornish for a 22-yard touchdown reception to cut the deficit to 9-7.
It was exactly what didn't happen in the first half, when Kansas couldn't make anything work with CU's defense obviously keying on star running back Jon Cornish.
Cornish finished with 23 carries for 80 yards, putting him past the 1,000-yard plateau. But the story of the day, at least on offense, was the pint-sized quarterback who could.
Listed at 5-foot-11, Reesing let reporters in on a little secret after the game.
"That's pushing it," he quipped. "I think it's more around 5-10 and change."
Added Mangino, "I don't care if he's 5-3. I like him."
Reesing, of course, had help in the second-half turnaround. Cornerback Aqib Talib, for one, had two crucial picks late in the game. He returned one 59 yards on the final play of the third quarter, setting up the Jayhawks' second touchdown - a three-yard Reesing run - that gave KU the lead for good.
Talib also intercepted a trick play in the fourth quarter when Colorado was trying to scrap back in it down 20-9.
"I thought it was a complete team effort," Mangino said, "but Aqib really led the way on defense."
Talib and the team was complemented wonderfully by Reesing. Like any freshman, though, the new wonder kid wasn't perfect. After scrambling for an eye-opening 63-yard gain in the fourth quarter, Reesing fumbled the ball on the next play, which CU safety Ryan Walters recovered and returned 95 yards for a touchdown.
Colorado then got the football back with 59 seconds left and 82 yards to go. But this time, a comeback wasn't in the cards. A chance at bowl-eligibility, suddenly, is back in the picture for the Jayhawks - who were left for dead when a collapse at Baylor dropped them to 0-4 in the Big 12.
"Losing so many close games, hard-fought games, playing so good and losing in the last minute," Talib said, "it was definitely a monkey off our back."
Of course, the ol' quarterback controversy - the two words that go together so well in Lawrence - is back. If Meier stays injured, Reesing obviously is the guy now. But, Coach, what happens when Meier's feeling good again?
"There will be no further discussion about quarterbacks and who's playing," Mangino said with a grin. "We encourage everyone to come to the games and find out."
And there's no doubt that after Saturday, rejuvenated Kansas fans will be more willing to do just that.
Copyright 2018 The Lawrence Journal-World. All rights reserved. This material may not be published, broadcast, rewritten or redistributed. We strive to uphold our values for every story published.