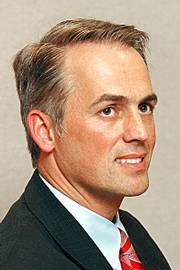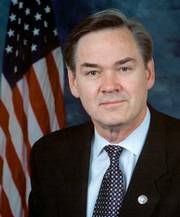 Incumbent 3rd District Congressman Dennis Moore, a Lenexa Democrat, has withstood four Republican challenges in a district where Democrats are outnumbered.
And in a year when Republican majorities in Congress are considered in jeopardy, Moore's GOP challenger this year is considered a long shot, having gained little financial support from a national party that is putting its major resources elsewhere. But challenger, Chuck Ahner, a loan company executive from Overland Park, says he has a strength previous Moore opponents lacked. He says he can appeal to both moderates and conservatives in the fractured GOP.
The 3rd District includes Johnson and Wyandotte counties and part of Douglas County, including eastern Lawrence.
Moore said he has the advantage for being better known in the district.
"I think people know me and really don't think they know my opponent," said Moore, a former Johnson County district attorney.
Ahner is a West Point graduate who unsuccessfully sought a Blue Valley school board seat in 2005.
Though Ahner's campaign has not received financial backing from the National Republican Congressional Committee, former Sen. Bob Dole and Sen. John McCain, R-Ariz., have endorsed him. And he has tried to paint himself as a Washington outsider.
Moore says his record proves he can work with Republicans and Democrats to accomplish things in Washington.
He touts his sponsorship of a bill to increase the military death benefit from $12,420 to $100,000 and his role in increasing IRA contribution limit.
Ahner has advocated moving to a consumption-based tax system and eliminating federal income tax. He also has stressed the need to cut "pork-barrel" spending and eliminating congressional budget earmarks.
More about the race for U.S. House, 3rd District
Ahner also supports individual health savings accounts, medical liability reform and streamlining technology to make health care more efficient.
Moore has introduced legislation to allow the Health and Human Services secretary to negotiate with pharmaceutical companies for a group discount for some 43 million Medicare beneficiaries.
Both candidates said Kansas can help the nation pursue energy independence.
"We can do that with bio-diesel, ethanol, other technologies that I think would supplement our energy needs," Moore said.
National security issues
On national security, Moore said he voted for use of force in Iraq in 2003 based on flawed intelligence reports and has since advocated for private discussions with the Iraqi government to develop a time frame for removing American troops.
"We saved the Iraqi people from Saddam Hussein, but we can't save the Iraqi people from the Iraqi people if they are not willing to put aside centuries of political and religious differences," Moore said.
Ahner has said America needs a larger military and cannot yet pull out of Iraq.
Moore voted against a bill to grant legal status to President Bush's warrantless wiretapping program, citing privacy concerns. He supported recent legislation on the treatment of terror-war detainees, because he said it set up a system to "convict the guilty and set the innocent free."
Ahner said he would have voted for both the detainee and warrantless wiretapping legislation.
During the 2006 election cycle, Moore raised nearly $1.69 million to Ahner's $426,105, and Moore raised $374,561 to Ahner's $114,843 during the most recent quarter.
Of Moore's total, more than $1 million came from political-action committees, while Ahner collected $5,000 from PACs and loaned his campaign $250,000. In the most recent report, Moore reported his cash on-hand at $288,616, compared to Ahner's $135,892.
Reform Party candidate Robert Conroy, of Shawnee, also is on the ballot but has not actively campaigned. He is a retired railroad engineer who won the Democratic U.S. Senate primary in 2004 but dropped out in the general election.
Copyright 2018 The Lawrence Journal-World. All rights reserved. This material may not be published, broadcast, rewritten or redistributed. We strive to uphold our values for every story published.