Photo Gallery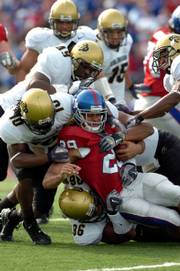 KU vs. Colorado football
FIRST QUARTER
4:51 - Mason Crosby 37 field goal. A late-hit penalty by Mike Rivera prolonged what was an all-but-dead drive, and Colorado capitalized by getting into field-goal range. The 37-yard field goal was merely a chip shot for the All-America kicker. (Colorado 3, Kansas 0).
SECOND QUARTER
8:57 - Crosby 26 field goal. Colorado moved the ball downfield thanks to the ground game of Hugh Charles and Mell Holliday, moving 49 yards to the Kansas 11. The drive stalled there, though, and Crosby poked his second three-pointer through the uprights. (Colorado 6, Kansas 0).
:41 - Crosby 32 field goal. Kansas had its drive prolonged by a roughing-the-kicker penalty, only to see Adam Barmann throw an interception that instantly put Colorado in Crosby's range. Four play later, Crosby booted his third field goal of the half. (Colorado 9, Kansas 0).
THIRD QUARTER
4:35 - Jon Cornish 22 pass from Todd Reesing. Reesing's arm took center stage, as he completed two passes for 64 yards and had another bullet fall incomplete, only to be called defensive pass interference. On first down at the 22, Reesing dumped it off to Cornish in front of the left tackle, and Cornish sprinted in untouched for six. Scott Webb kick. (Colorado 9, Kansas 7).
FOURTH QUARTER
14:30 - Reesing 3 run. Aqib Talib intercepted a Colorado pass and returned it 59 yards, swinging the momentum back to the Jayhawks. Reesing had a 16-yard run to make it goal to go, and on third down ran it up the middle on a draw for the score. Scott Webb kick. (Kansas 14, Colorado 9).
7:57 - Derek Fine 5 pass from Reesing. Reesing orchestrated a 53-yard drive thanks in part to a third-down completion to Jeff Foster for 31 yards after he was flushed from the pocket. On third down, Reesing lobbed one to the back corner of the end zone, where Fine hauled it in. Two-point conversion attempt failed. (Kansas 20, Colorado 9).
3:17 - Ryan Walters 95 fumble return. Reesing scrambled 63 yards to set KU up for a game-icing score. But two plays later, Reesing fumbled the ball into the air after getting hit. Walters caught it in stride and rumbled 95 yards for the touchdown, barely outrunning Jon Cornish. Two-point conversion attempt failed. (Kansas 20, Colorado 15).
Copyright 2018 The Lawrence Journal-World. All rights reserved. This material may not be published, broadcast, rewritten or redistributed. We strive to uphold our values for every story published.