Photo Gallery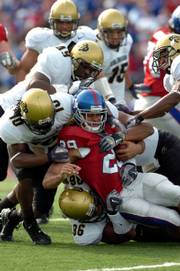 KU vs. Colorado football
Before reporters could ask their first question to Dan Hawkins after the 20-15 Kansas University football victory, the Colorado coach summed up his overall thoughts in four words.
"Good defense, no offense," Hawkins said.
Indeed, Colorado didn't score an offensive touchdown in the defeat, but it dominated the first half and led, 9-0, at intermission Saturday at Memorial Stadium. The Buffaloes picked off senior quarterback Adam Barmann twice. They held the Jayhawks to 16 first-half rushing yards. Kansas looked uninterested on offense.
The second half threw two different obstacles at Colorado.
Senior quarterback James Cox broke his right thumb in the second quarter when he turned his hand over and cracked it on a helmet. He didn't return to the game, and Hawkins said he "most likely" would miss the rest of the season.
Cox's injury proved significant. Hawkins mixed in snaps for quarterbacks Cox and Bernard Jackson in the first half. It kept Kansas guessing on defense. Hawkins constantly rotated the quarterbacks in the first half during the same drive - not between possessions. Typically, CU coaches analyzed the situation on the field and played to their quarterback's strengths.
"Cox is the better passer, so we have more plays like that in for him," tight end Riar Greer said. "Then we have more running plays in for Jackson, so we just try to situate each one of their skills."
CU's second obstacle showed up in the form of Todd Reesing replacing Barmann as KU's quarterback.
Reesing accounted for three touchdowns - two in the air and one on the ground. He had 90 yards rushing and 106 yards passing in the second half alone.
"When we thought we had him, he'd get out of the pocket and move around, and he made great decisions," Colorado safety Ryan Walters said. "My hat is off to him. But at the same time, we let that one get away from us."
Walters said the Buffaloes didn't have the most in-depth scouting report on Reesing. After all, the freshman quarterback hadn't taken a snap at the collegiate level. To Walters, though, a scouting report might not have mattered.
"It's hard to game-plan when somebody breaks a tackle or makes somebody miss," Walters said. "We came out flatter (in the second half) than we should have. We should have came out and matched their intensity. I take responsibility for some of that."
Reesing's appearance served as a bit of irony for Colorado. The Buffaloes tried to confuse the Jayhawks with multiple quarterbacks. Instead, Reesing served as the unknown X-
factor for Kansas.
"He came in and did a great job," Hawkins said of Reesing. "He made some big plays running. The guy was a little bit of a fireplug and made plays. He botched a couple, too, but he was their motivation. There's no question about that."
The botched play Hawkins mentioned resulted in the CU touchdown. Walters recovered a Reesing fumble and ran 95 yards for the score.
Copyright 2018 The Lawrence Journal-World. All rights reserved. This material may not be published, broadcast, rewritten or redistributed. We strive to uphold our values for every story published.