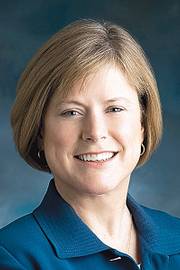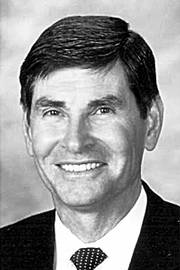 The Jim Ryun-Nancy Boyda race for the 2nd Congressional District is a rematch of their 2004 contest, which Ryun, a Republican from Lawrence, won 56 percent to 41 percent.
But this year is different, said Boyda, a Democrat from Topeka.
Nationally, Republicans face tough questions from voters about the war in Iraq and a growing list of scandals.
"Had enough?" Boyda's campaign signs ask. "Nothing will change until we change Congress."
But Ryun, one of the most conservative members of Congress, said the country is on the right course behind the Republican majorities in Congress and President Bush. He seeks a sixth term.
When filing for office, Ryun said: "I represent smaller government, fewer taxes and family values. I feel the 2nd District is comfortable where they are at the moment."
The district includes west Lawrence, Topeka, Manhattan and much of southeast Kansas.
Ryun and Boyda have tangled on several issues.
Ryun supports Bush's policies in Iraq. "Progress is slow, but it is being made," he said.
He has said that Boyda supports a "cut-and-run" withdrawal. Boyda said an exit strategy must be shaped, but she denies Ryun's accusation.
"People are sick and tired of these slogans," she said.
She said she hopes a bipartisan study group led by former Secretary of State James Baker can rise above the political fight and make recommendations on the war.
On energy issues, Ryun says "liberals in Washington" have blocked oil exploration, and he has said global warming has been overplayed. Boyda said Ryun is in the pocket of large oil interests and hasn't done anything to help the environment.
More about the race for U.S. House, 2nd District
Ryun voted to build a fence on the U.S.-Mexico border while accusing Boyda of supporting amnesty for illegal immigrants. Boyda says Ryun has misrepresented her position.
Boyda has spoken against expanding highways to handle commerce coming from Mexico, saying that would create security risks for Kansas.
Boyda said Congress must address health care costs and access and that she is willing to look at universal health plans developed in Canada and Massachusetts.
Ryun said universal health care would limit access to care and treatment. He supports health savings accounts, which allow people to set aside money, tax-deferred, for medical costs. Boyda said health savings accounts work "if you're healthy and wealthy," but aren't a viable option for most people.
U.S. Air Force veteran Roger Tucker, a retiree and member of the Reform Party, also is running for the 2nd District seat. He is not actively campaigning.
Copyright 2018 The Lawrence Journal-World. All rights reserved. This material may not be published, broadcast, rewritten or redistributed. We strive to uphold our values for every story published.