Four mothers testified for her. A tearful former Lawrence High School pom squad member rallied behind her.
And fathers of pom squad members lingered outside all afternoon.
But after an emotional four-hour, closed-door hearing, Lawrence's school board unanimously decided Friday to fire Ashley Stewart, LHS's pom squad coach, for her actions involving a student drinking incident last month.
The board approved a resolution to do so on a voice vote, ending Stewart's six years as coach.
"We feel like this is a difficult and unfortunate situation all the way around," said Sue Morgan, board president.
Morgan read a two-page resolution that listed two main reasons for the firing:
¢ Stewart allowed a student who had admitted to consuming alcohol to cheer at the Sept. 29 homecoming football game.
¢ Stewart failed to tell her supervisor immediately that the student had been drinking, which meant that appropriate procedures couldn't be implemented, including contacting the student's parents so the parents could be allowed to safely transport their child home.
Because the matter was a personnel issue, board members said they were unable to comment on the termination.
Stewart referred questions to her attorney, Paul Davis, who said "termination was not the way to deal with it."
"Coaches and teachers have to make difficult decisions, and they get put in tough situations at times," Davis said. "And there's not always a black and white answer. This was really one of those situations. And we didn't think that the termination was really the proper remedy for what had occurred."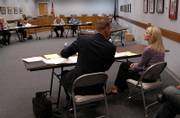 Davis said the school board decided to take a strong stand about student alcohol abuse.
"That's something that we understand and support wholeheartedly," Davis said. "Ashley Stewart was an excellent coach. That was what her supervisor said. And there were numerous parents and members of that squad who felt that she was treated unjustly. We just don't think the action taken today was really a just outcome."
However, Davis said there would be no attempt to appeal the board's decision.
"The board is the Supreme Court when it comes to this," he said. "There is nowhere else to go."
Stewart, a Johnson County elementary school teacher, has been on suspension with pay for her Lawrence supplemental coaching contract since Oct. 9.
That's when the school board approved a resolution saying it intended to terminate Stewart's coaching contract because of the drinking incident.
Stewart gave her side of the story earlier this month. Stewart said she asked the student at the game whether the girl had been drinking because she could smell alcohol on her breath.
Because the girl appeared to be OK, she allowed the girl to cheer at the game, then made sure the girl had a ride home from the game, Stewart said.
Stewart said she informed the girl's parents and her supervisor the next day.
Stewart said she was told she was fired Oct. 2 because she didn't tell her supervisor on the night of the incident.
During Friday's hearing, the board's attorneys brought Steve Nilhas, LHS principal, and Gwen Wedd, LHS cheerleading coach, in to speak.
Several people spoke on Stewart's behalf, some emerging after their testimony in tears.
Those speaking on her behalf included Cindy Fritzel, whose daughter, Kylie, is on the pom squad; Adriane Gill, who had a daughter on the squad two years ago; Abbey Murray, a former LHS pom squad member who is now a member of the Kansas University Rock Chalk Dancers, Abbey Murray's mother, Sandy Murray; and Jane Mosely, whose daughter, Emily, is on the pom squad.
Tim Fritzel and Paul Mosely also came to the hearing in support of Stewart.
Copyright 2018 The Lawrence Journal-World. All rights reserved. This material may not be published, broadcast, rewritten or redistributed. We strive to uphold our values for every story published.