Poppet Flats, Calif. — A wind-whipped wildfire started by an arsonist killed four firefighters Thursday and stranded up to 400 people in an RV park when flames burned to the edge of the only road out, officials said.
"Everybody is hunkered down here. They're fighting the fire around us. It's across the street from us," said Charles Van Brunt, a ranger at the station at the entrance to Silent Valley Club, the recreational vehicle park near Palm Springs. The residents were in no immediate danger, he said.
Authorities asked people in the RV park to stay put to leave roads clear for firefighters. Hundreds of others in the area were forced from their homes.
Fire officials said the blaze was set about 1 a.m. and had blackened 10,000 acres within 12 hours. Fire Chief John Hawkins said the arson "constitutes murder."
It was the deadliest wildfire firefighting disaster in the United States since July 10, 2001, when four firefighters were killed in Washington's Okanogan National Forest. They died after becoming trapped by flames on a dusty dead-end road in a remote canyon.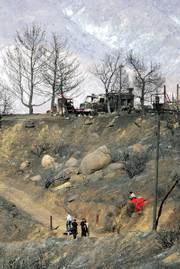 The Forest Service crew was trying to protect a house as dry desert winds of 25 mph or more blew a wall of flames down on them in the hills northwest of Palm Springs.
"They had left their truck to do structure protection when the fire overran them," said Forest Service spokesman Pat Boss, adding that the flames came down so quickly they had no time to retreat to their engine or use protective sheltering.
Three firefighters died at the scene, and two were hospitalized in critical condition. One of those two died several hours later. The other has burns over 95 percent of his body, Boss said.
The surviving firefighter also has severe respiratory damage, said Dr. Dev Gnanadev, a trauma surgeon at Arrowhead Regional Medical Center.
Another official believed the blaze was set just as the winds picked up in order to maximize destruction. Riverside County Sheriff Bob Doyle dispatched homicide detectives to the scene to work with FBI agents during the investigation.
Copyright 2018 The Associated Press. All rights reserved. This material may not be published, broadcast, rewritten or redistributed. We strive to uphold our values for every story published.