When Wal-Mart in Lawrence starts selling Gary Watson's prescription drugs at $4 a pop, he may say goodbye to the friendly face at the neighborhood pharmacy.
"I'm sure they call people by their first name just the same," Watson said of Wal-Mart pharmacists. "I don't think it would be impersonal just because it's Wal-Mart."
It's not that Watson has anything against mom-and-pop pharmacies, he said. But saving $6 or more every time he fills a prescription just might be the bait that lures him to the retail giant's smiley face.
Wal-Mart announced Thursday that it would bring its $4-a-month drug plan to Kansas and 11 other states, selling 314 generic drugs at bargain-basement prices. The plan is now in effect at the Lawrence Wal-Mart, 3300 Iowa, and at Wal-Mart pharmacies statewide.
Bentonville, Ark.-based Wal-Mart rolled out the program in Florida three weeks ago and last week added 14 states to the list. The low-priced drugs are now available in 2,507 Wal-Mart, Sam's Club and Neighborhood Market stores.
The company said in a news release it accelerated the launch of the low-priced prescriptions because of customer demand.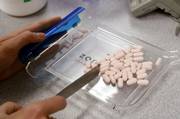 Analysts said the program will help Wal-Mart by bringing in more customers to shop in other store departments and extend its reach in another segment of the retail industry: the drugstore business.
Union-backed critics of Wal-Mart have also accused the company of using the low-priced drugs to divert attention from its own employee health insurance plan, which they say does not offer adequate coverage.
States added Thursday were Alabama, Georgia, Iowa, Kansas, Maryland, Michigan, Mississippi, Missouri, New Hampshire, Ohio, South Dakota and Virginia.
States already with the program were Alaska, Arkansas, Arizona, Delaware, Florida, Illinois, Indiana, Nevada, New Jersey, New Mexico, New York, North Carolina, Oregon, Texas and Vermont.
But pharmacists around the country apparently thought the industry as a whole wouldn't be affected much by Wal-Mart's cheap drug prices. An ongoing survey on the industry Web site Drugtopics.com showed Thursday that more than half of about 1,000 respondents thought the drug prices were just a ploy to get more foot traffic into Wal-Mart stores.
Some pharmacists in Lawrence seemed to agree.
"I think a significant amount of this stuff is pretty gimmicky," said Mark Smith, a pharmacist at Orchards Drug, 1410 Kasold Drive. "I think people are going to have to find out for themselves what kind of benefit that really is."
Smith and others said they thought the price breaks people could find at Wal-Mart may not be enough to lead them away from their regular pharmacies.
"Our clientele is seriously interested in a level of service," Smith said - a level of service only found at local pharmacies familiar with the people they serve.
Generics in the discount plan
¢ Dozens of cardiac drugs, including Nadolol, also called Corgard; Digitek and Captopril. ¢ The asthma medication Albuterol. ¢ Parkinson's medications, including Benztropine, also called Cogentin. ¢ Glaucoma medication, including Pilocarpine. ¢ Dozens of other antibiotics, diabetes medications, antidepressants and vitamins.
Timothy Bredehoft, a pharmacist at Medical Arts Pharmacy, 346 Maine, said that pharmacists more and more are becoming an essential link in the health care chain - something clients will be less and less willing to tamper with.
"It's not going to be about price anymore," Bredehoft said. "It's about how a pharmacist can improve an entire health care system."
But Bredehoft admitted that price certainly mattered.
Watson said it was simply a matter of savings. If Wal-Mart only carried one generic brand that he needed, he might stick with the pharmacist he uses now.
But if people need three or four brands they can get at Wal-Mart on the cheap, well ...
"It would be quite a different thing at that point," Watson said.
Copyright 2018 The Lawrence Journal-World. All rights reserved. This material may not be published, broadcast, rewritten or redistributed. We strive to uphold our values for every story published.