Eudora — It's a good thing for Eudora High that Loni Ogden had his head on a swivel Thursday night at Laws Field.
As senior quarterback Kent Swanson stepped back for a handoff, the football slipped out of his hands and into the air. The play was designed for Ogden. The senior running back alertly grabbed the ball in stride and ran 26 yards for the game's first touchdown. Eudora (9-0) defeated Baldwin (4-5), 14-0.
"As I was looking forward, there wasn't a hole," Ogden said of the offensive line. "But when I caught the ball, it opened right up, and I knew I was gone from there."
With the victory, Eudora notched its first undefeated season since the fall of 1948, according to Delbert Seiwald, a member of the '48 team who attended the game.
"Having a 9-0 football team doesn't come to most schools," Eudora coach Gregg Webb said. "Moments come in your life where you just have to take advantage of them because you just don't get those moments very often."
Thursday night didn't produce the typical big-play, 43-points-per-game Eudora offense. Instead, the Cardinals controlled the football and relied on their hard-nosed defense. The Bulldogs gained only two first downs in the second half. Both first downs came on their last possession of the game.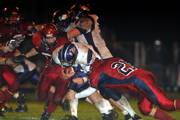 "You get two hours of defensive coaching every day and you can be a pretty good team," Webb said.
Baldwin held Eudora's offense in check for the majority of the game. Swanson finished 4-for-13 for 75 yards passing. Neither junior running back Travis Clarke nor Ogden amassed 100 yards rushing.
"Baldwin was throwing every imaginable defense at us they could think of, and it's good stuff, too," Webb said. "You saw us, we were running around like idiots sometimes."
Swanson showed signs of effectiveness during particularly tough situations, though. For instance, with 39 seconds remaining in the third quarter, Eudora faced a 4th-and-12 from the Baldwin 26-yard line. The Cardinals elected to go for it. Swanson rolled out to his right and found an open Mike Ortega in the endzone.
"We sent Ortega up the field to read the defense," Swanson said. "We had to find the hole, sit there and hopefully make a play. Ortega grabbed the ball, fought for it - he was tough there - and got in the endzone. It was just a great play by him."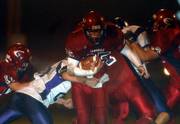 Eudora faced Baldwin during the final game last season as well. The Cardinals came into the game undefeated, but the Bulldogs held them off, 35-20.
"It's a great revenge," Clarke said. "It's a huge rivalry. Baldwin came in here 4-4 and they still played their butts off. That just shows what the rivalry is right there, that no matter what your record is, you're going to play hard."
Since Kansas City Piper defeated Basehor-Linwood, 40-8, on Thursday, Eudora will face Piper in the first round of the Class 4A state playoffs on Tuesday. Kickoff is set for 7p.m.
How they scored
Eudora 8 0 6 0 - 14 Baldwin 0 0 0 0 - 0 E - Loni Ogden 26 run (Ogden run) E - Mike Ortega 26 pass from Kent Swanson (Swanson run failed)
Copyright 2018 The Lawrence Journal-World. All rights reserved. This material may not be published, broadcast, rewritten or redistributed. We strive to uphold our values for every story published.