Jon Cornish discounts the milestone he's about to hit. Individually, he's thinking even bigger.
But Kansas University's football program will need to stop and salute the senior 39 yards from now. It has been 10 long years since anyone has charted these waters.
Cornish, KU's Canadian-born running back, is on the doorstep of joining a short list of Jayhawk rushing greats. He's just 39 yards away from 1,000 rushing yards this season, a four-digit feat that hasn't been accomplished since June Henley ran for 1,349 yards in 1996.
KU coach Mark Mangino called it a milestone the whole offense could be proud of. Cornish has never once ignored the help his offensive line has given him.
But when the record books are dusted off years from now, it's all but certain to include Cornish alongside names like Tony Sands, John Riggins, Nolan Cromwell and Gale Sayers - the most notable of the eight 1,000-yard rushers in KU history.
Cornish currently has 961 yards on 170 carries and at least four games to tack on bigger numbers. And, yes, he's being humble about what he's likely to hit Saturday when KU takes on Colorado at Memorial Stadium.
"That's never been the ultimate goal," Cornish said. "One thousand is a four-digit number compared to a three-digit number."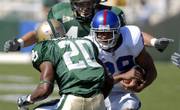 Cornish added that if he maintains "exactly" at his present pace, he'll reach his individual goal. That's 1,442 yards, which would match Sands' all-time best mark in Kansas history.
While talking publicly of individual accomplishments makes some athletes uncomfortable, Cornish seems more open about it. Team success has never taken a backseat, but Cornish has never denied having personal goals.
He said in the spring that 1,000 yards "would be somewhat of a disappointment." KU coach Mark Mangino replied in the summer with a chuckle, saying "if he's going to talk the talk, he better walk the walk."
Well, he has.
"It's always nice having Jon back there," tight end Derek Fine said. "Jon's got a lot of heart. Everybody plays hard, but Jon, he just has a way of finding holes and being able to find the spots and getting the burst of speed to get all the yards possible."
Cornish has done it all with an annoyance, too - he's played the last three games with a minor injury, one of the few chinks in what's otherwise a strong armor. Such durability is how he's able to get the carries - and yards - that he gets.
"We joked with him up until a few weeks ago, he never gets injured," Mangino said. "He's very durable, he's strong, he's flexible. We've not had any issues. He got nicked up a little bit, and he's fought through it. He's a guy that you can count on. He really is."
In eight games, Cornish has had six 100-yard performances, including a 196-yard game on 24 carries last week against Baylor. That game propeled him to No. 1 among Big 12 Conference running backs in rushing yards. In addition, there are only six backs in Division I-A with more yards than Cornish at this stage of the season.
"I think it's just telling you," Mangino said, "that you are running the ball well, and it benefits your team in a lot of ways."
Copyright 2018 The Lawrence Journal-World. All rights reserved. This material may not be published, broadcast, rewritten or redistributed. We strive to uphold our values for every story published.