Dale Willey is about to take over as chairman of the National Automobile Dealers Assn., the nationwide trade group whose 63 directors represent 21,000 dealers with nearly 43,000 franchises accounting for $699 billion in sales last year.
All this just as Willey is poised to tack another 3.2 acres onto his own dealership - and branch into an entirely new line of service - in Lawrence.
"Once the sale is consummated, we're in the ministorage business and we will continue to be in the ministorage business," said Willey, longtime owner of Dale Willey Automotive, 2840 Iowa, which soon will include A-1 Mini Storage at 2910 Iowa. "We're ready."
Like he won't have anything else to do.
Willey, 65, this week won election to be chairman of the auto dealers' association. He'll formally take office in early February during the association's three-day annual meeting in Las Vegas.
He knows what the job entails, having served for the past nine years on the association's board, seven of them as part of the group's 15-member executive committee. His leadership posts have included serving as chairman of dealer operations, public affairs, and legal and regulatory affairs.
Soon he will be the face of the organization that lobbies on Capitol Hill, compiles industry research data and provides training and service programs to help improve dealer operations, sales and service practices.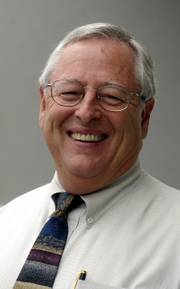 It's no small responsibility for an industry that will be expected to sell 16.6 million cars, trucks and SUVs next year.
"I pinch myself every morning knowing that I'll be chairman of the board, with over 21,000 dealers," Willey said. "I have an awesome responsibility. I hope we can accomplish some things."
High on his list: Win passage in Congress for "total-loss disclosure," a push by the association to see that every car totaled out by an insurance company - whether it's after an accident, fire, flood or anything else - has its pertinent information entered into a national database.
That way, Willey said, anyone looking to buy a used car could determine, free of charge, whether a particular vehicle had reached a point at which the cost for repairs outpaced the car's total value.
He said that "cosmetic artists" had become proficient at duping consumers and dealers alike when it comes to making a car look good and function adequately for a brief test drive. It's only after regular use or an extensive inspection that some buyers realize they've bought damaged goods.
Background
¢ Age: 65 ¢ History: Established Dale Willey Automotive in 1970, when he bought Quality Cadillac Pontiac, then one of 1,250 dealerships in Kansas. His early days were spent at 1040 Vt. ¢ Future: Dale Willey Automotive, at 2840 Iowa, sells Pontiacs, GMCs, Buicks and Cadillacs and is one of 258 dealerships in Kansas. It has 41 employees and occupies a 4.25-acre site. The operation soon will add 3.2 acres, and will continue to operate A-1 Mini Storage at 2910 Iowa.
"There were 700,000 total-loss vehicles in Katrina and hurricanes along the Gulf Coast," he said. "There are 2 million cars totaled annually. These cars get totaled, and I've been a victim. I know some people that have been victimized by it. It's not enjoyable. It's expensive."
Requiring disclosure, he said, "is the most straight-forward, simple, lowest-cost approach to solving this problem."
Dealers have a major stake in sales of used cars, according to the association. Dealerships benefited from an 8 percent rise in profits last year from such transactions after years of soft sale prices attributed to oversupply.
In Lawrence, Willey is investing in used cars. His expansion project - he plans to raze the building that had been home to Pay-Less Furniture Outlet, plus a single line of storage units - will make way for a new used-car lot big enough to hold 100 used vehicles, up from the 60 he has space for now.
The project also will free up room to expand his new-car operation so that Dale Willey Automotive will have slots for more than 200 such vehicles, up from 150 today.
Copyright 2018 The Lawrence Journal-World. All rights reserved. This material may not be published, broadcast, rewritten or redistributed. We strive to uphold our values for every story published.