Irving, Texas — Jerry Jones is disappointed the Dallas Cowboys are turning to Tony Romo at quarterback, although it's not because he lacks faith in his former backup.
"I'm disappointed at the reason we're having to make this change," Jones said Thursday.
The change as forced Jones to lower his expectations for this season. He and coach Bill Parcells frequently said during the summer they thought this team could be "special," their code word for a team that could go deep in the playoffs.
Now?
"I have to be a realist," he said. "I hadn't thought or hoped that we'd be sitting here after the sixth game making these adjustments. ... I did not want to this year go to an inexperienced quarterback. I wanted to have the benefit of Drew Bledsoe. It hasn't worked out as of today. It just hasn't worked out. That to me is a step back."
Jones was counting on the Cowboys being a lot better than 3-3 and was expecting Bledsoe to be a big part of their success. Instead, the same problems Bledsoe has long faced - sacks and interceptions - are reasons for Dallas' slow start.
Parcells benched Bledsoe at halftime Monday night against the New York Giants and turned to Romo, who'd been with the team since 2003 but hadn't thrown a pass until the previous game.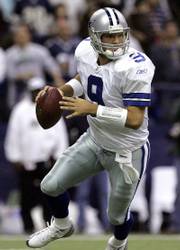 The former Division I-AA player of the year was 14-of-25 for 227 yards and two touchdowns and ran for a two-point conversion, but also threw three interceptions. Still, it was good enough for Parcells to announce Wednesday that Romo is now the starter.
He realizes things don't look as good now. The Cowboys have lost to the three best teams they've played and beaten the three worst, a recipe for mediocrity - something Dallas is trying to shake out of. The club hasn't won a playoff game since 1996 and hasn't made it to the postseason since 2003.
Giving Romo a chance now also could benefit the Cowboys in the long run because they'll find out whether he deserves the job next year. He received an extension through 2007 during the preseason.
Jones was quick to point out that wasn't a reason for this move, saying it is not a sign that "we were junking this season and just putting the team together for the future."
Romo will be the ninth starting quarterback for Dallas since Troy Aikman. Romo is the biggest long shot to make it up the depth chart, having outlasted Jones-picked candidates Quincy Carter, Chad Hutchinson and Drew Henson, plus old Parcells favorites Vinny Testaverde and Bledsoe.
Jones, who carries the dual role of owner and general manager, defended his quarterback carousel, noting that he's "consciously tried not to go to the top of the draft to get a quarterback."
"Part of the responsibility I have is how you address the long term situation at quarterback," he acknowledged.
Jones is still optimistic about Romo.
"I think he's a top athlete," Jones said. "I like his approach to competing. He's got a natural leadership quality about him. ... He's pocket sensitive. He's got a good feel of where it's coming from, the pressure."
Jones said he and Parcells had talked about the quarterbacks in "probably 50 percent of the conversations we have," so there wasn't a lengthy discussion about the change. He added that he did not regret sticking with Bledsoe so long, instead of having broken in Romo earlier this year or even in previous years.
"I know why we made the decisions," he said. "I would have liked for them to turn out better, but I don't regret it."
Copyright 2018 The Associated Press. All rights reserved. This material may not be published, broadcast, rewritten or redistributed. We strive to uphold our values for every story published.