Baldwin — Baker University ushered in a new era Thursday with the formal inauguration of President Pat Long.
"To be the first woman president and the 28th president - it's an awesome responsibility and opportunity," Long said.
Long, who comes to Baker from the University of Missouri-Kansas City, where she most recently served as acting executive vice chancellor, takes the post that Dan Lambert held for nearly two decades before retiring.
About 800 people filled Baker's Rice Auditorium for the inaugural convocation Thursday. Lambert formally transferred the school's leadership to Long while admitting that departing the top post brings mixed feelings.
"It's simply the best job in the world, or at least pretty close to it," he said.
Photo Gallery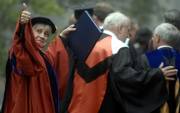 Inaguartion of Baker President Pat Long
Long laid out her vision for Baker, promising to focus on increasing scholarship opportunities, updating science facilities, expanding programs and continuing to foster a challenging learning environment.
She said she wants to be a leader who works as a team player.
"I believe that a vision is much better if you have the wisdom of lots of people around you," Long said. "I believe we have so many great possibilities for the future because of the people that are here."
Long vowed to work to increase the university's endowment and announced that the Alumni Scholarship Fund hit the $100,000 mark for the first time. She also announced a $200,000 gift from the Goppert Family Foundation.
She vowed to ensure that writing and critical thinking are cornerstones of the curriculum, attributing Baker's 42 percent four-year graduation rate as the focus of these areas.
Long said she wants Baker to be a school that values innovation and creativity and encourages faculty to try new things, and she announced the Kopke Endowed Fund for Innovation in Education, which will make at least $75,000 per year available for projects that are not supported in Baker's operating budget. She also said Baker in recent months has established the new President's Vision Fund, offering small awards for projects to benefit students.
She said she hopes to expand the institution's reach and improve facilities. She said the campus has $20 million plans to renovate and build an addition to Mulvane Hall and to open the new building by late 2009 or early 2010. She said Baker will buy land for a new residence hall to replace an existing hall, and the hope would be to open the new building in 2008.
Longtime Baker art professor Walter Bailey said Long is a good listener.
"She is interested in what our experiences are, what we have seen, what we have done and what our ideas are," he said. "Anytime you have someone in a position who begins that way, they're going to make a hit."
Copyright 2018 The Lawrence Journal-World. All rights reserved. This material may not be published, broadcast, rewritten or redistributed. We strive to uphold our values for every story published.