TRENTON, N.J. — New Jersey's highest court opened the door Wednesday to making the state the second in the nation to allow gay marriage, ruling that lawmakers must offer same-sex couples either marriage or something like it, such as civil unions.
In a ruling that fell short of what either side wanted or most feared, the state Supreme Court declared 4-3 that gay couples are entitled to the same rights as heterosexual ones. The justices gave lawmakers 180 days to rewrite the laws.
The ruling is similar to the 1999 high-court ruling in Vermont that led the state to create civil unions, which confer all of the rights and benefits available to married couples under state law.
"Although we cannot find that a fundamental right to same-sex marriage exists in this state, the unequal dispensation of rights and benefits to committed same-sex partners can no longer be tolerated under our state Constitution," Justice Barry T. Albin wrote for the four-member majority.
The court said the Legislature "must either amend the marriage statutes to include same-sex couples or create a parallel statutory structure" that gives gays all the privileges and obligations married couples have.
The three dissenters argued that the majority did not go far enough. They demanded full marriage for gays.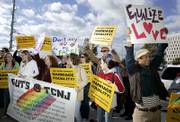 Gay rights activists had seen New Jersey as a promising place because it is a largely Democratic state in the Northeast. The only state to allow gay marriage is Massachusetts. The only states allowing civil unions are Vermont and Connecticut. New Jersey is also one of just five states that have no law or constitutional amendment expressly banning gay marriage.
If the court had legalized gay marriage outright, the effect could have been more far-reaching, and New Jersey could have become more of a magnet for gay couples than Massachusetts, which has a law barring out-of-state couples from marrying there if their marriages would not be recognized in their home states. New Jersey has no such law.
For gay rights advocates, there was debate on whether the ruling was a victory.
Lara Schwartz, legal director of Human Rights Campaign, said if legislators have to choose between civil unions and marriage, it is a no-lose situation for gay couples. "They get to decide whether it's chocolate or double-chocolate chip," Schwartz said.
Steven Goldstein, executive director of Garden State Equality, New Jersey's main gay rights group, said his organization wants nothing short of marriage. "We get to go from the back of the bus to the middle of the bus," he complained.
Copyright 2018 The Associated Press. All rights reserved. This material may not be published, broadcast, rewritten or redistributed. We strive to uphold our values for every story published.