Baghdad, Iraq — U.S. officials unveiled a timeline Tuesday to curb violence in Iraq and said more troops might be needed to stop the bloodshed.
The timeline - announced two weeks before U.S. midterm elections - grew out of recent Washington meetings at which the Bush administration sought to reshape its Iraq policy amid mounting U.S. deaths and declining domestic support for the 44-month-old war.
U.S. Ambassador Zalmay Khalilzad said during a news conference that the timeline would require Prime Minister Nouri al-Maliki's government to set dates by the end of the year for completing six key tasks. He was joined at the conference with the top U.S. commander in Iraq, Gen. George Casey.
Five of the six key tasks are clearly designed to mollify Sunni Arabs, the minority Muslim sect that makes up the bulk of the insurgency and is responsible for most American deaths in Iraq.
Those five points that are key issues for Sunnis are:
1. Passing a law that would guarantee the sharing of Iraq's oil wealth.
2. Amending the constitution.
3. Turning an anti-Baathist organization into a reconciliation body.
4. Disbanding Shiite militias.
5. Setting a date for provincial elections.
The sixth measure called for "increasing the credibility and capability of Iraqi forces."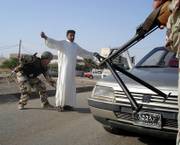 U.S. officials revealed neither specific incentives for the Iraqis to implement the plan nor penalties for their failure to do so.
The lack of any real political consensus even among Shiites, however, has made it extremely difficult for Iraqi leaders to keep deadlines; for example, they missed targeted dates on naming a government and in moving forward on constitutional amendments. Moreover, Tuesday's declarations lacked specifics on how to accomplish the goals.
Casey said additional U.S. troops could come from inside or outside Iraq to "improve basic services for the population of Baghdad."
"Now, do we need more troops to do that? Maybe. And, as I've said all along, if we do, I will ask for the troops I need, both coalition and Iraqis," Casey said. There are currently 144,000 U.S. forces in Iraq.
Casey said Iraqi forces would be "completely capable" of controlling the country within the next 1 1/2 years.
"We are about 75 percent of the way through a three-step process in building those (Iraqi) forces," the general said. "It is going to take another 12 to 18 months or so until I believe the Iraqi security forces are completely capable of taking over responsibility for their own security. That's still coupled with some level of support from us."
Casey's estimate of when the Iraqi army will be ready was noteworthy because it has not changed even as the security situation in the country has deteriorated. Iraqis are now being killed at a pace of more than 40 each day in sectarian fighting and revenge killing.
The comments came after a spike in violence during the Islamic holy month of Ramadan. Casey said the Iraqi army lost 300 men during the fasting month ending this week.
October has been the deadliest month this year for American forces with 91 troops killed so far.
Khalilzad said he had assurances from al-Maliki that radical anti-American Shiite cleric Muqtada al-Sadr would disband his Mahdi Army. But al-Sadr draws much of his power from his control over the heavily armed fighters. And al-Maliki draws much of his support from al-Sadr.
For that reason, disbanding the feared militia group appears to be a promise that is unlikely to be kept in the near term.
Copyright 2018 The Associated Press. All rights reserved. This material may not be published, broadcast, rewritten or redistributed. We strive to uphold our values for every story published.