Photo Gallery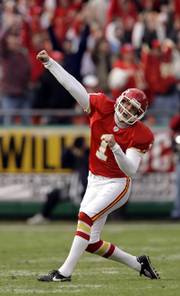 Chiefs-Seahawks injuries
The football gods have granted the Kansas City Chiefs a reprieve this weekend.
Sure, they host the defending NFC Champion Seattle Seahawks, and last year's Super Bowl participants own a 4-2 record and sit atop the NFC West. But they will face the (3-3) Chiefs without Pro Bowl quarterback Matt Hasselbeck and 2005 MVP running back Shaun Alexander.
Chiefs coach Herm Edwards, however, fears the rest of the Seahawks will raise their level of play to compensate for the losses.
"They've had an injury to their quarterback, and that always concerns you as a head coach," Edwards said during his Tuesday news conference. "You know the team will rally - no different than our team had to rally going to Denver with Damon's (Huard) first start."
Seneca Wallace, a four-year veteran who will make his first start at quarterback Sunday, looked overwhelmed last week. After Minnesota Vikings linebacker E.J. Henderson rolled into Hasselbeck's lower right leg in the early second half, Wallace assumed the reins. He threw 14-of-25 passes for 134 yards and two interceptions and coughed up a fumble in the end zone during a 31-13 loss.
Wallace, who has such athleticism that the Seahawks have practiced him at defensive back and wide receiver in previous years, presents variant offensive options.
"They'll play a little different with Seneca," Edwards said. "He'll take off and run. They'll probably have some plays that will get him outside where he can throw - where he can get outside of the rushers."
The Chiefs will mix up defenses against the young quarterback, sometimes blitzing several defenders and dropping several into coverage on other occasions.
-->
"You have to change up, never stay the same," Edward said. "What you have to do with him is not let him get comfortable in the pocket, and then when he gets outside the pocket you've got to plaster down the field, covering the receivers."
For any opposing quarterback, playing at Arrowhead Stadium serves as a challenge. The raucous, 78,000 fans make communication between the offensive line and quarterback nearly inaudible, giving the Chiefs' pass rushers an extra edge. Edwards, however, said the young quarterback, who starred at Iowa State, will have many rooting for him.
"He'll have a lot fans," Edwards said. "Believe me."
Making the task of winning at Arrowhead Stadium more difficult is that Alexander will not line up behind Wallace. Last year's MVP rushed for 1,880 yards and 27 touchdowns, but Seahawks coach Mike Holmgren said he did not expect Alexander to return from a broken foot until Nov. 5.
Maurice Morris has managed only 224 yards on 73 carries (a 3.1 average) in Alexander's place. But the mobile Wallace could pick up some of the running game's slack.
"If he gets to the edges, he can throw it or run for a first down, and that keeps a drive alive," Edwards said. "You've got contain him and not let them convert third downs."
That may be true, but while Edwards would never say it, the Chiefs' road to their fourth win has become less daunting.
Copyright 2018 The Lawrence Journal-World. All rights reserved. This material may not be published, broadcast, rewritten or redistributed. We strive to uphold our values for every story published.