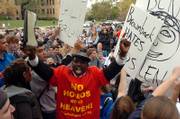 Two traveling preachers wearing anti-homosexual T-shirts and preaching anti-homosexual sermons withstood jeers from hundreds of students this afternoon on Wescoe Beach at Kansas University.
The gathering started about 11 a.m. when students walking around campus spotted the two men.
Michael Venyah and Chris Lemieux said they travel around the country and often stop on campuses as part of Soul Winners Ministries International.
At Wescoe Beach, Venyah stood up, held a Bible and shouted various messages condemning homosexuals and people who practice other religions telling them to "repent of their sins."
Hundreds of students crowded around the steps to watch and made signs to block Venyah's face from view. At one point, someone threw a condom onto Venyah's shoulder.
A few students held rainbow flags while others shouted to drown out Venyah's message.
"It's really sad. Especially when they don't really listen to the other point of view. I'm glad that there are actually people saying he's wrong," said Chris Thomas, a KU sophomore from Overland Park.
Lemieux said he and his preaching partner try to reach "all non-believers," and that they often face such opposition. The two made an unannounced visit to KU, he said.
"Because that's one of the sins that people are committing on campuses, and that really divides people on whether they are following Jesus Christ or not," Lemieux said of the pair's anti-homosexual message.
At least three KU Public Safety officers monitored the crowd. Capt. Schuyler Bailey said at 12:45 p.m. that no violence had been reported.
Copyright 2018 The Lawrence Journal-World. All rights reserved. This material may not be published, broadcast, rewritten or redistributed. We strive to uphold our values for every story published.