Hays — The owner of the Fox Theatre, the recently refurbished art deco building in Hays, hopes its reopening serves as a catalyst for revitalizing the western Kansas city's downtown.
"We're really at the start of rebuilding Hays," said Brooks Kellogg, who bought the empty theater earlier this year. "We're at the early stages of people realizing that things can be changed."
Kellogg bought the Fox Theatre for $101,000, after it had sat empty for more than two years. He began a complete face-lift of the sagging structure that culminated with a grand opening over the weekend, drawing many local residents who recalled seeing films there years ago.
"I haven't been in here in 30 years," said Gerald Thyfault, who saw the movie "The Exorcist" the last time he was at the Fox. "It's kind of a different deal. I had no idea it would look this good."
Thyfault said he remembered taking his wife, Cindy, on a special date to see "Doctor Zhivago" many years ago.
"We were both from Damar, and that was the first time we went to a show together here," Thyfault said. Damar is about 35 miles northwest of Hays.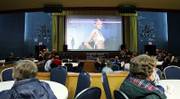 "It was a big deal to go all the way to Hays to see a movie," he added.
Theater manager Lindsey Basinger said the facility won't show first- or second-run movies, although it could show pictures that have been out for at least a year. But it's more likely to show classic movies, which reflect the 1950s art deco influences throughout the building.
Basinger also said there are plans to use the building for dinner theaters, a New Year's Eve party, a Super Bowl party and even Sunday night football.
"It's the biggest screen in Hays for football," Hays resident Robert Hagen said. "I'm sure people would come here to see Sunday football. I'm sure it will be packed."
Copyright 2018 The Associated Press. All rights reserved. This material may not be published, broadcast, rewritten or redistributed. We strive to uphold our values for every story published.