At elite college basketball programs, the term "senior leadership" is for the most part outdated. Most players good enough to lead such teams leave for the NBA with an unused year or two of eligibility.
In the case of Kansas University this season, the term not only is outdated, it's impossible. KU does not have a senior on its roster.
Would you believe in sophomore leadership? Julian Wright, a 6-foot-8, 225-pound forward from Chicago Heights, Ill., has the potential to fit that description.
Even as a freshman, Wright often gathered teammates at the foul line after a whistle and said a few words. Not all leaders in sports are vocal. Wright is. Some leaders do so by example. They do the right thing at the right time for the right reason.
Wright's example was not always the best to follow in that he was too excitable and turned the ball over too often as a freshman. His heart was in the right place in calling teammates together, a move that can have a positive effect in that it settles down a team that's spinning out of control, but too often he was the one who needed settling down.
His game became cleaner as the season went on, and he said he worked on tightening it up throughout the offseason, which gives more credibility to his words of leadership.
"My decision-making is much better," Wright said when asked to name what part of his game has improved the most. "The game has slowed down a lot for me in terms of picking spots to score and drive, even post up. It's more natural now, in terms of me being a leader."
Wright is a model pupil. In the classroom, he tends to sit in the front row and pay attention. On the court, he's obviously eager to please. It's one thing to hear a coach tell you what is the best path to success. It's another to hear it, follow it, and be able to look back on a season and see the positive effects.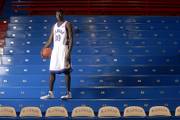 Wright is at that stage, which makes him a valuable leader to this year's freshman class of Darrell Arthur, Sherron Collins and Brady Morningstar. His perspective is so fresh he can share what worked for him as a freshman, worked so well that he and fellow sophomore Brandon Rush shared preseason Big 12 Player of the Year honors as voted by the league's coaches.
"We have to play great as a team and if we do that someone on the team is bound to get the award," Wright said. "I wouldn't be surprised if Mario (Chalmers) won it."
In this the AAU era of basketball, young players tend to think the world that revolves around them owes them favors, so when people do things for them they take them for granted. Listen to Wright go out of his way to single out, by name, those who have helped him, and it's evident he hasn't been spoiled by the AAU culture.
Talking about where he's come since last season, Wright said, "I've improved in terms of being a vocal leader, in terms of skills. I feel like I've gotten a lot more explosive in terms of lifting, and that's coach (Andrea) Hudy. ... Throughout the year, I think film helped a lot as well. Administrative assistant Brett Ballard breaks down film clips for us to look at and goes over things with us and that really helps."
On what advice he would give to the freshmen, Wright said: "The first thing I would tell them is what coach Self always says, even outside basketball: 'Know that you don't know it all.' Once you know you don't know it all, that's when you start getting better, realizing, 'Hey, I can do this. I can get through boot camp.' That's the No. 1 thing for the freshmen this year. Come in, forget about the McDonald's All-American accolades, and think about now."
And?
"Last season, we didn't have much offense going early, and we'd dig down and play defense," Wright said. "Defense was always a constant throughout the whole season. If you play defense, that at least gives you a chance to win. That's what I'd tell the freshmen. You have to play defense and be unselfish."
Senior leadership isn't an option, but Wright said he thinks there is a leader from each class, and he hopes to be that leader from the sophomore class like Russell Robinson from the junior class.
"He's a great leader," Wright said of Robinson. "He's going to give his all every day in practice when it seems like no one wants to go as hard to fire you up. He's arguably one of the best defenders in the nation. I'm a little biased, but that's how I feel. Just knowing he's going to do the little things to help the team is leadership."
Robinson is more a leader-by-example type who backs down from nobody than a vocal, fiery leader.
Who else?
"This might shock some people, but Sherron has a good chance to become a leader once he understands what he has to do and gets better and learns from his mistakes," Wright said. "He's played against the best and come out on top. Coach Self is really big on point guards and their development in terms of having confidence, and he always has the confidence. As the little mistakes happen, he has a good head on his shoulders and he could emerge as a leader."
Wright already has emerged as one.
Copyright 2018 The Lawrence Journal-World. All rights reserved. This material may not be published, broadcast, rewritten or redistributed. We strive to uphold our values for every story published.