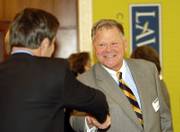 The chairman of the Kansas Bioscience Authority is certain that Lawrence will be a vital ingredient in the state's ongoing development of a life-sciences industry.
It's just a matter of deciding exactly how.
"We have the intellectual capital," said Clay Blair, in Lawrence on Tuesday to meet with about 80 business leaders during a luncheon organized by the Lawrence Chamber of Commerce. "We just have to explore the niche opportunities that are available to us. We can't be like California or Boston or even North Carolina. But what we can do is learn from them, and develop our own models and take baby steps to move forward."
To finance such steps - to attract companies to Kansas, help in-state operations grow and nurture life-sciences start-ups - the 2-year-old authority is charged with investing an estimated $588 million during the next dozen years on research, equipment, buildings and related items.
In Lawrence, the authority already has invested $100,000 to help convince Ireland-based Identigen Ltd. to establish its North American headquarters at 4824 Quail Crest Place. The money is helping the company relocate scientific equipment from across the Atlantic Ocean, plus finance DNA animal-identification research in cooperation with Kansas and Kansas State universities.
As Identigen expands its payroll from three or four people to 12 to 15 employees - after three months in town - other Bioscience Authority investments are producing more jobs. Prescription Solutions received assistance and now has 850 employees in Overland Park, after relocating from California; the company recently said it would grow to 1,900 employees within 12 months.
Such success stories, Blair said, generate the income taxes from jobs that will be used to finance the authority's ongoing efforts in the coming years.
Authority leaders hear many good ideas, he said, but the ones that get financing show the best prospects for job growth and market success.
"We expect a return on our investment," Blair said.
The luncheon was sponsored by U.S. Bank.
Copyright 2018 The Lawrence Journal-World. All rights reserved. This material may not be published, broadcast, rewritten or redistributed. We strive to uphold our values for every story published.