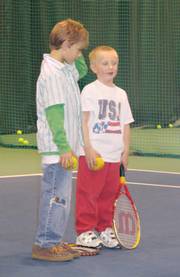 To the untrained eye, the children in the peewee tennis class at First Serve were doing everything but learning how to play tennis.
The 4- to 8-year-olds practiced high-fiving their coaches, running circles around each other and catching the ball off a bounce.
Not once did any of the youngsters serve the ball or work on perfecting a crosscourt backhand.
The class was 45 minutes of fun, but with a closer look, one could see just how the kids were learning the most basic fundamentals of the game.
Once instructors stuck rackets in the kids' hands, the high fives turned into quick volleys. A slight adjustment in the process of running circles turned a seemingly silly game into a footwork drill, and the ball-catching practice was simply worked the hand-eye coordination that was so important for tennis.
And that was exactly what they intended to do, said Stuart Waters, one of several instructors.
"We're disguising the learning of tennis in fun games," Waters said.
Knowing the rules and technicalities of tennis has nothing to do with the peewee class, Waters said.
"The key at this age is to teach them to love the game," Waters said. "You can teach them how to play later once you've instilled the passion.
Passion is something Maeve Ryan, 7, has already figured out.
"When I grow up, I want to be a famous tennis player," Maeve said.
Maeve and her sister, 8-year-old Riordan, said they never really play "real tennis." Instead they sometimes attempted to rig up some sort of game in their driveway.
Not quite the French Open, but they had plenty of fun anyway.
"You get all kinds of cool games," Maeve said, before Riordan added, "It's fun, but it's tiring."
Waters and his fellow First Serve instructors take numerous steps to make the experience as enjoyable and educational as possible for the young players.
The classes are small; last Saturday's morning session had just six students and two instructors, Adam Ritchie and Dick Wedel.
Ritchie is the director of beginner and intermediate tennis at First Serve, and he had a friendly relationship with the players.
Maeve said Ritchie was "really nice and fun."
Another difference in the class was the use of larger-than-normal orange foam balls. Waters said they were Speed Balls, which helped make the game easier for beginners and ensured a higher success rate.
"If they succeed right away, they want to keep playing," Waters said. "That makes the transition to real balls easier."
As the kids get older, they will slowly be introduced to more aspects of the game until they can put the pieces together and really play tennis.
Until then, they will continue to attend the after-school sessions during the week, and kids' classes on Saturdays.
Waters said First Serve catered to nearly 70 peewee players, and one or two new kids show up each with each passing week.
Players don't need to have tennis knowledge in order to start the classes, and they don't even need to bring their own rackets.
Waters said they provide rackets for all ages and invited anyone interested to give tennis a try.
Copyright 2018 The Lawrence Journal-World. All rights reserved. This material may not be published, broadcast, rewritten or redistributed. We strive to uphold our values for every story published.